AIT chief reiterates U.S. neutrality on Taiwan's presidential election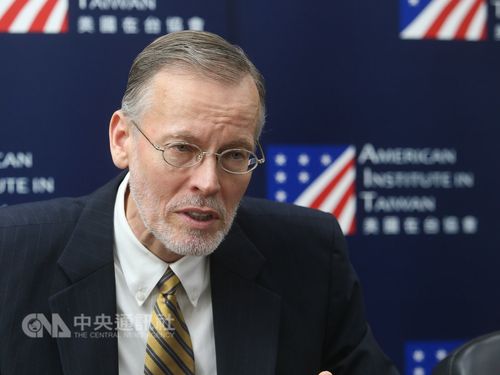 Taipei, June 4 (CNA) The de facto U.S. ambassador to Taiwan on Tuesday reiterated Washington's neutral stance in Taiwan's upcoming presidential election, following a local pundit's recent remarks that the American Institute in Taiwan (AIT) expressed concern about the ruling Democratic Progressive Party's (DPP) nomination process for the 2020 presidential election.
TV political pundit Yang Sen-hong (楊憲宏) told local media on May 23 that AIT had been in contact with the DPP and consulted other opinion leaders on the nomination process for its 2020 ticket.
However, Yang declined to disclose which senior AIT individual provided him with the information.
AIT represents U.S. interests in Taiwan in the absence of official diplomatic ties.
In his address during a U.S.-Taiwan co-hosted digital forum on Tuesday, AIT Director Brent Christensen said that as part of AIT's regular work, officials frequently meet with different political party representatives to better understand Taiwan's political environment and procedures.
"But we take no position on the elections, or the processes by which they are conducted," he stressed.
"As always, we will look forward to working with whomever Taiwan's voters select," he added.
It took more than two months before the DPP finally, on May 29, agreed that its 2020 presidential candidate will be selected by means of a primary that will include three public opinion polls comparing the popularity of its candidates against the two front runners nationwide.
The two are Taipei Mayor Ko Wen-je (柯文哲) and Kaohsiung Mayor Han Kuo-yu (韓國瑜) of the opposition Kuomintang (KMT), who are currently ahead in the polls.
The negotiations on the format of the DPP primary were at an impasse for weeks as the party's two contenders, President Tsai Ing-wen (蔡英文) and former Premier Lai Ching-te (賴清德), could not agree on how the public opinion polls should be conducted.