Taiwan needs voice at WHA: U.S. health secretary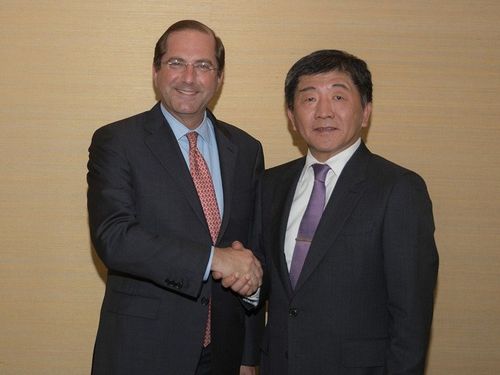 Taipei, May 22 (CNA) U.S. Department of Health and Human Services Secretary Alex Azar met Taiwan's Health Minister Chen Shi-chung (陳時中) in Geneva Tuesday, and voiced his backing for Taiwan's participation at the World Health Assembly (WHA), later displaying his support for Taiwan on social media.
The two discussed global health issues and Ebola, as well as exchanging views on Taiwan and U.S. national medical care programs and agreeing to establish official channels of communication to pave the way for future cooperation in epidemic prevention and the development of medication and medical equipment.
Later that day, Azar tweeted a photo taken with Chen and declared that "the people of Taiwan need a voice at the WHA."
According to Chen, Azar not only voiced regret over Taiwan's exclusion from the WHA in his capacity as U.S. health minister a day earlier at a WHA meeting, but also sought to explain the role that Taiwan can play at the WHA to World Health Organization (WTO) Secretary- General Tedros Adhanom Ghebreyesus.
Azar was quoted by Chen as saying that it is an issue of "values."
Meanwhile, Guatemalan Minister of Foreign Affairs Sandar Jovel also tweeted, thanking Taiwan for helping her country to increase the health coverage for pregnant women and to boost the level of its public health in general.
In response, Taiwan's Ministry of Foreign Affairs reposted Azar's photo and tweet, as well as Jovel's and thanked them both for their firm support of Taiwan.
Minister of Foreign Affairs Joseph Wu (吳釗燮) stressed that "Taiwan can help promote global health for the sake of everyone."
The WHA is holding its 72nd session May 20-28 in Geneva.
Taiwan has since 2017 not been able to take part in the WHA -- the decision-making body of the WHO -- due to obstruction by China as a result of worsening cross-Taiwan Strait ties after President Tsai Ing-wen (蔡英文) came to power in 2016.
Taiwan participated at the WHA as an observer from 2009-2016, during the tenure of former President Ma Ying-jeou (馬英九), thanks to his Kuomintang administration's more China-leaning policy compared to that of the current ruling Democratic Progressive Party.