Communist China has no right to tell Taiwan media what to do: NSB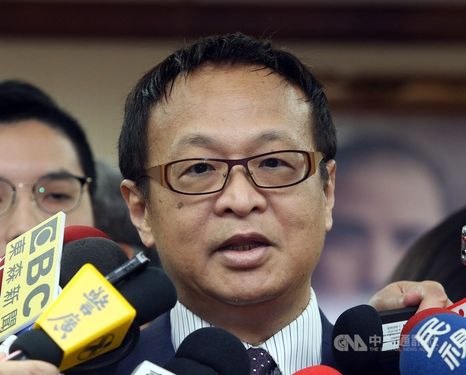 Taipei, May 14 (CNA) A communist regime that has no respect for press freedom has no right to tell Taiwan media what to do, deputy chief of Taiwan's top intelligence agency said Monday, after a top Chinese official urged Taiwan's media to promote China's "one country, two systems" principle.
The Taiwan government is open to all kinds of cross-strait exchanges, except those that are being carried out as part of Beijing's ongoing efforts to push for unification, National Security Bureau (NSB) Deputy Director General Ko Cheng-heng (柯承亨) told reporters on the sidelines of a legislative hearing.
He was commenting on a statement made by Wang Yang (汪洋), chairman of the Chinese People's Political Consultative Conference (CPPCC) National Committee, at an annual gathering in Beijing of media organizations from Taiwan and China last Friday.
"The peaceful unification of both sides of the Taiwan strait and the realization of 'one country, two systems' rely on your hard work," Wang said in his address at the closed door "Cross-Strait Media People Summit," which was organized by the Beijing Daily Group and the Taiwan-based Want Want Media Group, long considered to have close ties with the Chinese regime.
Asked to comment Monday, Ko told reporters that Wang's remarks clearly demonstrated China's ongoing efforts to push for unification with Taiwan and were another example of its efforts to encroach on Taiwan's media freedoms. As a free and open democratic society, Taiwan "does not need a Communist country that does not respect press freedom to tell our media what to do," Ko said.
Wang's address was "extreme and provocative" and would have a negative impact, not only on cross-strait ties, but also China-U.S. relations, Ko said, referring to Wang's comments about the trilateral relations among Taiwan, China and U.S.
"[The Americans] are just using Taiwan as a pawn," Wang said at the media gathering. "Will they go to war with China for Taiwan? I'm guessing they won't. If we really go to war, will the Americans win? I'm guessing not."
The NSB had said it was closely watching those media entities in Taiwan that were pro-China or shared China's values, as some had been spreading disinformation in an attempt to influence public opinion in Taiwan.
Asked Monday if those media outlets at the gathering in Beijing summit last week could be categorized as "pro-China or sharing China's values," Ko reiterated that the NSB would not identify such entities, in the interest of its ongoing intelligence efforts.