Belizean Senate president promises support for Taiwan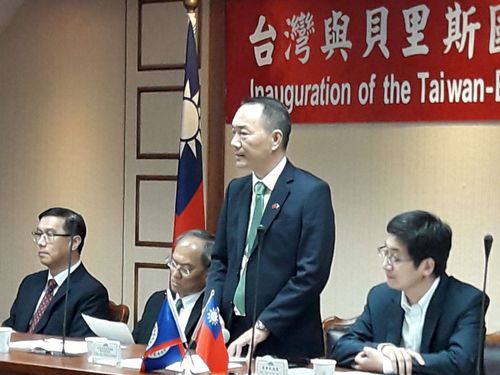 Taipei, April 24 (CNA) Belize will continue its support for Taiwan and speak for it on the international stage, Belizean Senate President Lee Mark Chang pledged Wednesday at a ceremony launching a Taiwan-Belize association of national legislators.
Chang promised that the Belizean government will continue to stand together with Taiwan to help it to have its voice heard in the international community and expressed support for Taiwan's democratic system and the maintenance of its territorial integrity.
He said he believes that Taiwan, like Belize, is an independent country and that Belize will work with Taiwan to protect the two countries' shared values of democracy, the rule of law, human rights and freedom.
The Central American country is also willing to continue to intensify cooperation with Taiwan in the areas of security, social prosperity, and sustainable development, he said.
At the same time, Chang noted that this year marked the 30th anniversary of diplomatic relations between Taiwan and Belize and thanked Taiwan's government and people for their longstanding support for his country, including providing aid for the country's infrastructure projects.
He also praised the launch of the Taiwan-Belize Interparliamentary Amity Association and looked forward to increased cooperation between the two countries' parliaments and to further strengthening relations between the two countries based on the principle of reciprocity.
Legislator Tsai Shih-ying (蔡適應) of Taiwan's ruling Democratic Progressive Party, who was elected chairperson of the association, said its creation represented the longstanding friendship between Taiwan and Belize.
He also thanked Belize for consistently helping Taiwan's voice be heard internationally.
Chang arrived in Taiwan on Monday at the head of a four-member delegation for a five-day visit to mark the 30th anniversary of bilateral diplomatic ties.