KMT members propose ways of including Han in presidential primary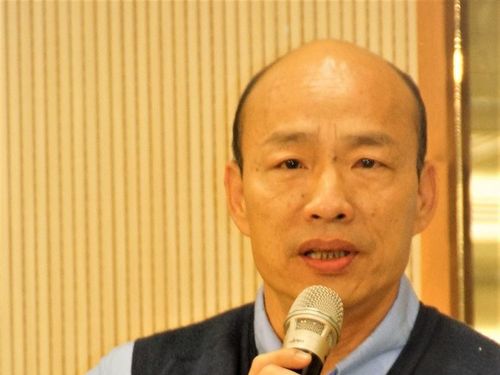 Taipei, April 23 (CNA) Members of the opposition Kuomintang (KMT) on Tuesday put forth a number of ideas for including Kaohsiung Mayor Han Kuo-yu (韓國瑜) in the party's presidential primary, hours after he indicated that he had no wish to do so under the current system.
KMT Central Standing Committee member Tseng Wen-pei (曾文培) said he will propose at a committee meeting on Wednesday that the party "take the initiative" to include Han in a public opinion poll that is part of the primary procedure.
"Without Han, there's no guarantee the best candidate will be selected in the opinion poll," Tseng said, adding that he had interpreted Han's statement to mean that he would not take the initiative to compete in the primary.
In a statement to the press Tuesday morning, Han said that as the new mayor of Kaohsiung, he had come to realize that the city could only improve if the country improved.
"As for the KMT's presidential race this year, I cannot run in the primary under the existing system at this point in time," Han said, without going into any details.
In response, KMT Central Standing Committee member Yao Chiang-lin (姚江臨) suggested that the party change the weighting of the opinion polls in its presidential primary, from 70 percent public opinion and 30 percent party member votes, to 100 percent public opinion.
The KMT must select the person with the best chance of winning the 2020 presidential election, Yao said.
KMT lawmaker Chen Shei-saint (陳學聖) expressed a similar view, saying the party should "open a window" so that it can pick its best candidate for the 2020 presidential election.
"The nomination should not be constrained by formalities," Chen said.
Another KMT lawmaker Chen Shu-hua (陳淑華), an outspoken Han supporter, said the party must "show some will for once" and unilaterally including Han in its primary.
In late February, the KMT decided to adopt a new system to select its candidates for public office. While it specified the weighting of 70 percent for a public opinion poll and 30 percent for a vote by party members, it has not yet detailed the guidelines and dates for the nomination of its 2020 presidential candidate.
The issue is expected to be discussed at a KMT Central Standing Committee on Wednesday.
In Han's press briefing Tuesday, he said it was urgent for Taiwan to change its political ecology. "I hope the KMT establishment will understand how people feel and pay close attention to how society is evolving," he said.
He said that while he did not want to enter the KMT presidential primary, he was willing to take on the responsibility of the future development of the Republic of China (Taiwan) without consideration of personal gain or loss, glory or humiliation.
Political observers have interpreted Han's hesitance to compete in the KMT primary as reluctance to make any move that would be seen as abandoning Kaohsiung so soon after his election as its mayor last November.
Meanwhile, Hon Hai Precision Chairman Terry Gou (郭台銘), who has thrown his hat into the ring as a KMT presidential candidate, said on his Facebook page Tuesday that the party should open its doors wide and "establish conditions or rules" that would allow Han to compete in the primary.
In addition to Gou, the other KMT presidential hopefuls are former New Taipei Mayor Eric Chu (朱立倫), former Legislative Speaker Wang Jin-pyng (王金平) and former Taipei County Magistrate Chou Hsi-wei (周錫瑋).
The latest media polls show Han with higher public support rate than Gou within the KMT in a presidential match up.