Terry Gou described as 'one-in-a-million' by Kaohsiung mayor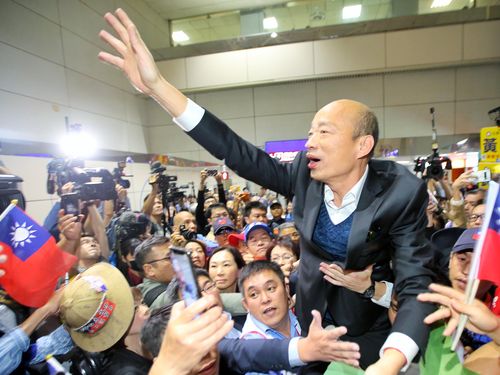 Taipei, April 18 (CNA) Kaohsiung Mayor Han Kuo-yu (韓國瑜) on Thursday described tycoon Terry Gou (郭台銘), who has expressed his intention to run in Taiwan's 2020 presidential election, as "a one-in- a-million candidate," because of his rare qualities, including close connections with both Washington and Beijing.
Gou is highly experienced in the business field and can apply this experience in the diplomatic arena, Han said at Taiwan Taoyuan International Airport upon his return from a nine-day visit to the United States.
It would be almost impossible to find other business or political personalities who possess such qualities in Taiwan, said Han, noting that Gou has direct connections with the White House and with Zhongnanhai, the central headquarters of the Communist Party of China and the State Council of China.
Gou, chairman of Hon Hai Precision Industry Co., whose net worth ranks No. 1 in Taiwan and 257th in the world according to Forbes magazine, announced his presidential bid a day earlier and will seek to run on the opposition KMT ticket.
Meanwhile, pressed by reporters on whether he himself will run for the presidency in 2020, Han reiterated that "it is not in my mind at the moment," adding that Taiwan's national security and economic development should be the two major concerns for the next president.
Han, a popular presidential possibility himself, arrived at the airport early Thursday to be met by an enthusiastic crowd chanting "run for president and save Taiwan" and in one instance even being hoisted aloft by supporters and carried through the crowd.
He said that although he is physically tired after his U.S. trip, he has been spiritually inspired by the love and support of overseas Chinese for the Republic of China (Taiwan).