Ex-U.S. official lauds Taiwan's democracy as TRA enters 40th year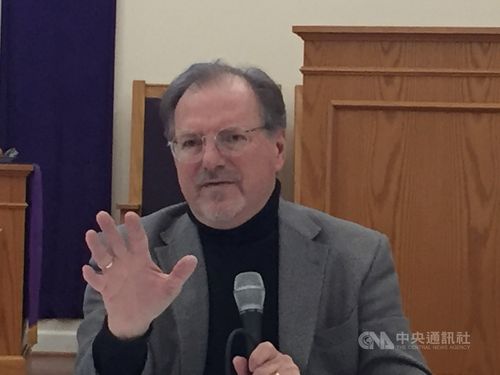 Washington, April 6 (CNA) Since the enactment of the Taiwan Relations Act (TRA) by the United States in 1979, Taiwan has made much progress protecting human rights, changing from an authoritarian country into a democracy, a retired U.S. foreign service official said Saturday at a seminar marking the 40th anniversary of the TRA.
John Tkacik, director of the Future Asia Project at the International Assessment and Strategy Center in Alexandria, Virginia and a retired U.S. foreign service official who served in Taipei and Beijing, made the remarks at a seminar organized by the Washington-based pro-Taiwan independence Formosan Association for Public Affairs on the TRA, which forms the cornerstone of Taiwan-U.S. relations.
The legislation provided a framework for continued U.S. assistance in Taiwan's defense after the termination of the Mutual Defense Treaty between the United States of America and the Republic of China and has helped advance Taiwan's human rights, Tkacik said.
The Taiwan Relations Act was signed into law on April 10, 1979 and the Kaohsiung Incident took place in December that year, Tkacik recalled, saying that the Ronald Reagan administration, which came into power in January 1981, pressured the administration of then-President Chiang Ching-kuo (蔣經國) to push forward human rights in Taiwan.
Tkacik said that when he started working on the U.S. State Department's Taiwan Coordination Staff in 1979, his main task was to promote human rights in Taiwan.
Taiwan made major strides toward human rights in the 10 years after the implementation of the Taiwan Relations Act. During that period of time Chiang lifted martial law and the ban on the formation of political parties, putting the island on the path to democracy, Tkacik said, claiming that as a major achievement of the TRA.
Taiwan then continued its democratic development and is now a model of vibrant democracy and freedom in the region, Tkacik added.
Stephen Yates, a deputy national security adviser to former U.S. Vice President Dick Cheney from 2001-2005, said that during the George W. Bush administration, the U.S.'s approval of arms sales to Taiwan and Washington's granting the request of former President Chen Shui-bian (陳水扁) of Taiwan to transit Texas and New York to receive a human rights award and deliver a speech during his overseas visit were both based on the TRA.
Although the U.S. later reduced official exchanges with the Taiwan government due to rising tensions across the Taiwan Strait, people-to-people and trade exchanges remain frequent between the two countries, Yates said.
As an example, even though there is no official relationship between Iowa and Taiwan, the latter is the state's second largest trade partner after Mexico, Yates said.