Tsai urges Taiwan businesses in China to move back home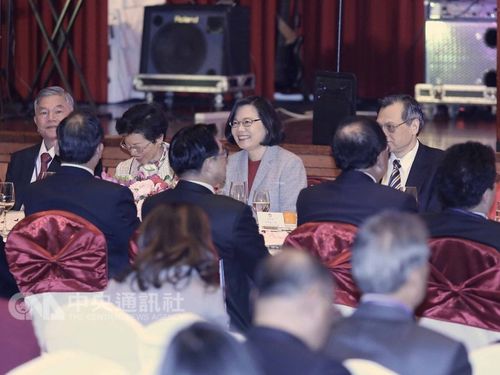 Taipei, Feb. 11 (CNA) President Tsai Ing-wen (蔡英文) on Monday called on Taiwanese businesses operating in China to move their manufacturing bases back to Taiwan.
Returning to Taiwan will allow them to better adapt to the volatile global economic environment and avoid the negative impact of the trade conflicts between China and the United States, Tsai said at a Lunar New Year gathering of China-based businesspeople held in Taipei.
While Taiwan is also facing several economic challenges in 2019, they present an opportunity for industrial upgrade, she said, adding that the government is confident it can overcome the obstacles.
Taiwan's challenges include a slowdown in economic growth and exports due to the China-U.S. trade tensions and a changing industrial environment, she said.
To cope those and other issues, Tsai said, she has been working to expand domestic demand and seek new drivers of economic growth; help China-based Taiwanese businesses return home and improve their industrial competitiveness; and market Taiwan more effectively in the wider world.
For Taiwanese businesses operating in China, the most effective response to the new developments in global economy and U.S.-China trade would be to move their production bases back to Taiwan, Tsai said.
By shifting their operating model from "made by Taiwanese businesses" to "made in Taiwan," those businesses will avoid getting caught in the crossfire of the China-U.S. trade war, she said.
Earlier this year, the Taiwan government introduced an action plan to encourage the return of Taiwanese companies based in China, Tsai said.
The plan was formulated to meet the needs of such enterprises by providing them with customized services and tax incentives and introducing an integrated policy on the supply of land, electricity, water and human resources, she said.
The government is committed to addressing the issue of the "five shortages" -- land, electricity, water, labor, and talent -- that hinder growth and investment in Taiwan, Tsai said.
She also said she is not opposed to exchanges across the Taiwan Strait. Given the geographic proximity of Taiwan and China, frequent exchanges and interactions between them are a natural and necessary development and should not be constrained or obstructed by political preconditions, Tsai said.
The president said the two sides should sit down and talk to iron out any disputes and differences.