Naturalized hoops player to sing national anthem at New Year event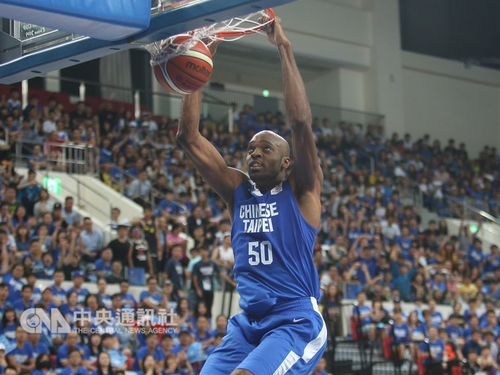 Taipei, Dec. 20 (CNA) American-born Taiwanese basketball star Quincy Davis will sing the Republic of China's national anthem alongside several other naturalized Taiwanese citizens during the flag-raising ceremony in front of the Presidential Office on New Year's Day, the office said Thursday.
According to Presidential Office Spokeswoman Chang Wen-lan (張文蘭), Davis, who plays on Taiwan's national basketball team, will sing the national anthem with four other naturalized citizens, from Australia, Turkey, Myanmar and Vietnam.
Davis first came to Taiwan in 2011 to play in the local Super Basketball League (SBL). After helping his team clinch its first championship title in 2012 and being named Most Valuable Player, the 203-centimeter tall player was given the chance to join Taiwan's national team. The offer prompted him to renounce his U.S. citizenship and obtain Republic of China citizenship in 2013.
He has since become a household name in Taiwan, playing a major role in lifting the international competitiveness of Taiwanese basketball, including some surprising victories over stronger and taller opponents from China.
According to the spokeswoman Chang, Australian-born Taiwanese physician Peter Kenrick (柯彼得), who has practiced in the eastern Taiwanese county of Taitung for more than three decades, will be singing alongside Davis at the flag-raising ceremony that day.
Kenrick officially became a Republic of China (Taiwan) citizen in 2017.
Television entertainer Ugur Rifat Karlova (吳鳳), who was born and raised in Turkey, will also be singing the national anthem at the ceremony. Having stayed in Taiwan for 12 years, he received his ROC citizenship earlier this year.
Two other naturalized citizens who will take part in the event are Burmese of Chinese descent Lily Yang (楊萬利) and Tran Ngoc Thuy (陳玉水) of Vietnam, who published a Mandarin-Vietnamese translation manual on important legal terms, to help Vietnamese people living in Taiwan.
With the theme of "Brave and Confident -- One with the World," the 2019 flag-raising ceremony will also highlight cheerleading and band performances from local artistic groups, including the Pingtung-based Feather Art of Drum and Dance.
The theme was chosen to shine the light on the nature of Taiwanese people, who are not afraid to move forward even when faced with challenges, Chang said.
With courage and perseverance, not only are Taiwanese people able to show their talents at home, they are also driven to achieve their dreams on the world stage, she said.
The flag-raising ceremony at the Presidential Office plaza will begin at 6:30 a.m., according to Chang.