Majoritarianism counter to human rights: visiting Indonesian activist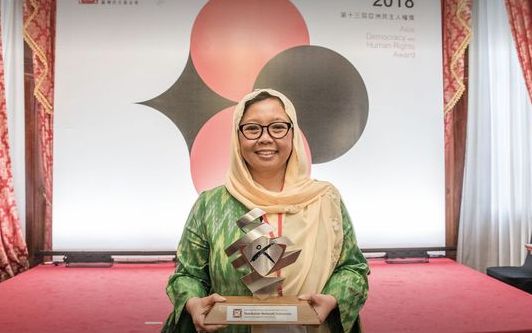 Taipei, Dec. 11 (CNA) The notion of the majority having the right to determine public policy is a simplified interpretation of democracy and results in discrimination against and intolerance of minorities, Alissa Wahid, a leading Indonesian activist, said in Taipei Monday.
"The feeling of majoritarianism (in Indonesia) is really strong," Wahid said. "The sentiment that is popular right now is that as a majority we have more rights. That obviously disregards constitutionally-guaranteed human rights."
Wahid was commenting on the global rise of populism in an Indonesian context where it is translated into religious populism, during an interview with CNA after receiving the 2018 Asia Democracy and Human Rights Award (ADHRA) on behalf of the Gusdurian Network Indonesia (GNI).
The GNI is an nongovernmental organization that promotes multiculturalism, human rights, substantive democracy, peaceful Islam, and protects minority rights against religious and racial intolerance, in a country where 80 percent of the population identifies as Muslim.
Since the GNI was established in 2010, named after Wahid's father, the late Indonesian president Abdurrahman Wahid, known as Gus Dur, it has grown into a vast network engaging thousands of people across Indonesia in a wide range of activities at grass-roots level to advocate on related issues.
With the influence of Wahhabism, an ultra-conservative form of Islam, from Saudi Arabia, which first started to flourish in the country three decades ago, Indonesia, long a symbol of more moderate Islam, has become less tolerant.
"We lost the tradition of holiday greetings," Wahid said as she cited an example of growing discrimination and hateful sentiment in society that has seen a rise in attacks on minority groups over the years.
"In the past, the tradition was for Muslims to visit Christians when it's Christmas or the other way around. Now some Christians say their Muslims friends avoid greeting them with 'Merry Christmas' because conservative ideas forbid them saying so," she said. "It's getting to that level."
Buddhist monks used to study Islam or Christians and Jews undertook research in Muslim communities without feeling hatred or discriminatory attitudes, but now it's so segregated that a house in a Muslim community cannot be sold to a non-Muslim, Wahid cited another example.
Religion is also used by hardline groups to target politicians or public officials whom they think do not support an Islamic agenda, most notably the case of Basuki Tjahaja Purnama, whose remarks about a Quran verse during his reelection for Jakarta governor in 2016 landed him in jail, according to Wahid.
"The problems with using religious dogmas for political power is that there are heavy incongruences," Wahid said.
"A true religious teaching is usually about a way of life and more like an integrated system," she said, "when you take only a small piece of this for political power, they clash with other aspects of that religion."
In a democracy, people are entitled to have their opinions about religions or other issues as long as they don't violate the rights of others, but public policy should always be based on human rights, Wahid said.
Asked to comment on the recent referendum in Taiwan that saw passage of three proposals sponsored by anti-gay rights groups, Wahid said that lesbian, gay, bisexual, transgender, intersex and queer (LGBTIQ) issues are the only subject that brings all religions together in opposition.
Gus Dur had a famous slogan that "truth cannot be voted," Wahid said.
"If only one of 500 people votes for the truth, it is still the truth, and the other 499 would still be wrong," she said, adding that the case illustrates the weakness of democracy if it is simplify defined as voting.
The challenge is who decides truth in terms of human rights, Wahid said. In her view, "the international covenants, framework and declarations on human rights serve that need until we decide otherwise."