Japan urges end to food import ban despite Taiwan referendum result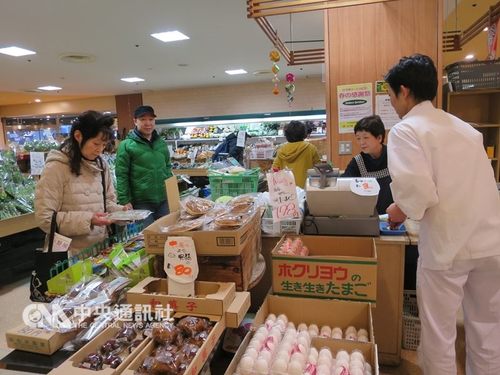 Taipei, Nov. 30 (CNA) Japan's representatives at a just-concluded trade meeting with Taiwan indicated that despite Taiwanese voting to maintain a ban on food products from radiation-contaminated areas of Japan in a referendum last Saturday, Tokyo still hope Taiwan will remove the total ban on such imports, the Taiwan-Japan Relations Association (TJRA) said Friday.
The annual Taiwan-Japan trade and economic meeting concluded earlier in the day after two days of discussions in Taipei on issues ranging from agriculture, to trade and commerce, public health and welfare.
In the event, the food ban was a central concern of the Japanese delegates, who expressed hope that Taiwan would accept restricted Japanese imports based on related scientific evidence, said TJRA Deputy Secretary-General Lin Ching-hung (林慶鴻) in response to media questions following the end of the meeting.
However, the Japanese officials also said they understood that Taiwanese had voted to maintain the food ban, Lin added.
TJRA represents Taiwan's interests in Japan during the absence of diplomatic relations between the two countries.
Taiwanese citizens voted in favor of maintaining the seven-year-old ban, by a margin of 78 percent to 22 percent in a referendum on Nov. 24. As a result, food products from areas in Japan affected by the Daiichi nuclear disaster in March 201l, namely Fukushima, Ibaraki, Gunma, Tochigi and Chiba prefectures, will continue to be barred from entering Taiwan.
In an effort to highlight Taiwan's isolationist position, the Japanese side mentioned during the Taipei meeting that China opened its doors to imports of rice from Japan's Niigata Prefecture, starting Nov. 28, Lin said.
Taiwan delegates at the meeting told their counterparts that the referendum result will be respected because it indicates Taiwanese want Japanese food that poses no health risks, according to Lin.
As a result, Taiwan's government will handle the issue based on the laws governing referendums and food safety, the official noted.
Asked about the remarks of Japan's Foreign Minister Taro Kono on Thursday that Tokyo does not rule out the possibility of initiating dispute settlement proceedings at the World Trade Organization (WTO) over the case, Lin said the Japanese side did not bring the WTO up at the meeting.
TJRA Secretary-General Chang Shu-ling (張淑玲) reiterated that the government will continue to communicate with Japan on the issue, seeking its understanding.
Taiwan and Japan signed one agreement and four memorandums of understanding at the end of the 43rd bilateral trade and economic meeting on Friday. The pacts touched on subjects ranging from mutual recognition of quality companies to information exchange and support for small and medium-sized enterprises.
Meanwhile, the initiator of the food ban referendum, Hau Lung-pin (郝龍斌) of the opposition Kuomintang (KMT), said he respects Japan's right to file a complaint at the WTO over Taiwan's ban. In the same way, "we hope the Japanese government will respect public opinion in Taiwan," he told the press.
Asked if the referendum result could damage Taiwan-Japan relations, Hau, who is a KMT vice chairman, said "We will never sacrifice Taiwan-Japan links."
The hope is bilateral exchanges and talks between the two sides will proceed based on the principles of equality and respect, Hau said.
Asked if the food ban could affect Taiwan's bid to join the Japan-led Comprehensive and Progressive Agreement for Trans-Pacific Partnership (CPTPP), Hau said Japan should first indicate its good will toward Taiwan as that could go a long way to help the government persuading the people to accept Japanese food products.
KMT Policy Committee director Chiang Chi-chen (江啟臣) said Taiwan-Japan relations are very complicated and not limited to the problem of food imports from nuclear disaster-hit areas in Japan.
"Japan is one of the countries that enjoys a big trade surplus with Taiwan," Chiang said, calling that a more serious problem than radiation-contaminated food imports.
Government data shows that Taiwan imported US$37.13 billion worth of products from Japan in the first 10 months of the year, while it exported US$19.23 billion, equating to a trade deficit of US$17.9 billion for that period.