Taiwan, Japan sign one agreement, four MOUs (update)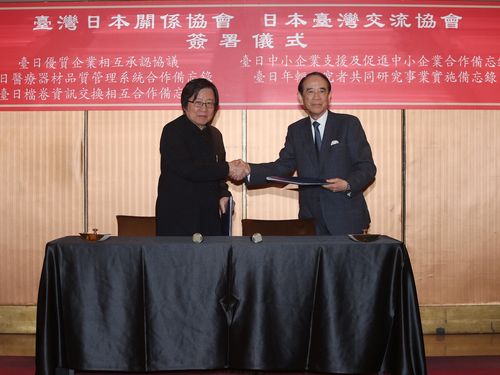 Taipei, Nov. 30 (CNA) Taiwan and Japan signed one agreement and four memorandums of understanding (MOU) at a two-day annual trade and economic meeting that ended Friday in Taipei.
Chiou I-jen (邱義仁), head of the Taiwan-Japan Relations Association (TJRA), and Mitsuo Ohashi (大橋光夫), chairman of the Japan-Taiwan Exchange Association (JTEA), signed the pacts on behalf of their respective governments, to enhance bilateral ties in the absence of formal relations between the two countries.
The agreement covers mutual recognition of quality companies, while the four MOUs involve two-way collaboration on building systems for medical care equipment quality control, file and data information exchange, support and promotion of small and medium-sized enterprises and the establishment of a joint business research platform for young scholars from the two countries.
During the two-day meeting, representatives from Taiwan and Japan discussed and exchanged views on issues related to agriculture, trade and commerce, public health and welfare.
Speaking at a news conference following the meeting, Wu Ming-ji (吳明機), director-general of Taiwan's Small and Medium Enterprise Administration, said he expected Taiwan and Japan to further deepen their cooperation on industrial development through the new deals.
Yeh Sung-mao (葉松茂), a section chief with Taiwan's Customs Administration, said the agreement to mutually recognize "authorized economic operators" will give exporters a convenient shortcut for their outbound shipments and create a greater edge for their goods.
Taiwan has signed similar pacts with the United States, Australia, Israel and South Korea and is planning to do so with Canada, he said.
TJRI Secretary-General Chang Shu-ling (張淑玲) said Taiwan and Japan have launched a three-year program under which 30 young scholars from the two sides will conduct research on several issues of importance to both governments.
They include issues related to falling birth rates and aging societies as well as cooperation in international law and the environment and energy.
Huang Wen-fa (黃文發), an official with the Food and Drug Administration, said the MOU on creating a two-way data information exchange system will provide quick patent-screening information for Taiwanese and Japanese applicants and will allow patent screening authorities of other countries to consult Taiwan's screening results.
The system is expected to start providing the service in January 2021, according to Huang.
The annual Taiwan-Japan trade and economic conference, first held in 1976, came days after Taiwanese voted to maintain a ban on imports of agricultural and food products from five prefectures in Japan that were affected by the Fukushima Daiichi nuclear plant disaster in 2011.