Taiwan to seek understanding as Japan threatens to sue over food ban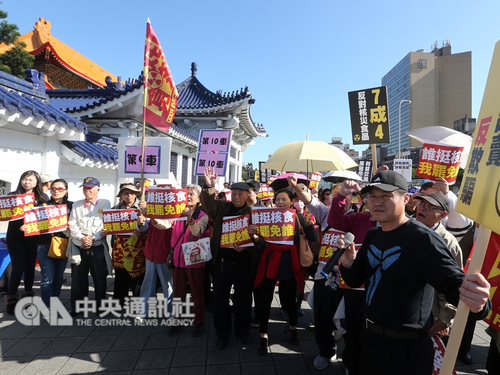 Taipei, Nov. 29 (CNA) Taiwan will seek Japan's understanding in a row over a ban on imports of agricultural and food products from radiation contaminated areas in Japan, the foreign ministry said Thursday, in response to a threat by Japan to take the case to the World Trade Organization (WTO).
Earlier in the day, Japan's Foreign Minister Taro Kono told lawmakers in Tokyo that the government will not rule out the possibility of filing a complaint with the WTO over the ban, which has been in place since the Fukushima nuclear plant disaster in March 2011.
Kono's statement came after Taiwanese voted on Nov. 24 in favor of maintaining the ban, by margin of 78 percent to 22 percent in a referendum.
Commenting on Kono's remarks, Andrew Lee (李憲章), spokesman for Taiwan's Ministry of Foreign Affairs (MOFA), said the ministry will cautiously engage in talks with Japan over the referendum result to seek understanding and protect the bilateral relations.
The Taiwan government has to respect public opinion, as expressed in the referendum result, but it also has to make sure that its cordial relations with Japan are not affected, Lee said.
He said it is MOFA's long held stance that any decision on the ban must be based on international standards, scientific evidence and the relevant WTO rules.
In addition, the health of the Taiwanese people must be taken into consideration, Lee said, adding that the final decision on the issue rests with Ministry of Health and Welfare.
In 2015, Japan filed a complaint with the WTO against South Korea over a similar ban and won the case on Feb. 22 this year.
The WTO said the ban was inconsistent with its rules against "arbitrarily or unjustifiably" discriminating against another country and recommended that South Korea take corrective action.
South Korea, however, has appealed the WTO ruling and has maintained the ban.
Taiwan's ban on food products from radiation-contaminated areas of Japan, namely Fukushima, Ibaraki, Gunma, Tochigi and Chiba prefectures, was imposed in 2011 by the then-Kuomintang government and tightened in 2015 after products from some of the listed Japanese prefectures were found on store shelves in Taiwan.
Since the Democratic Progressive Party came to power in 2016, it has been considering lifting the ban on food imports from all the affected prefectures except Fukushima, but has run into strong public opposition to the idea.