KMT's Lu Shiow-yen claims victory over incumbent Taichung mayor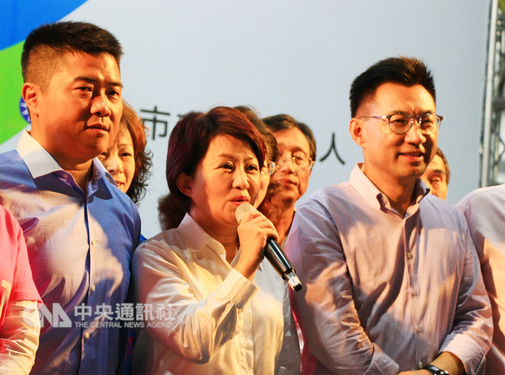 Taipei, Nov. 24 (CNA) Lu Shiow-yen (盧秀燕) of the opposition Kuomintang (KMT) declared victory in the Taichung mayoral election Saturday, beating incumbent Lin Chia-lung (林佳龍) of the Democratic Progressive Party (DPP).
Lin had earlier conceded the election and urged Taichung citizens to support Lu.
Pending confirmation by election officials, the victory means that Lu, 57, has retaken the central Taiwan city for the KMT after four years in the hands of the DPP.
In the run-up to the election, the polls showed that Lin and Lu were in a tight race.
Lu is a six-term KMT legislator who entered local government elections this year for the first time.
To demonstrate her determination to win the race, Lu announced her resignation as a lawmaker four days before the election.
She also proposed a referendum to cut electricity output from thermal power plants in Taiwan year by year, which is believed to have boosted her momentum in the city that is plagued by serious air pollution.
Lu was first elected to the Legislature in 1999 and broke a record in 2016 when she won the most ballots for any KMT candidate in the legislative elections, gaining almost 110,000 votes.
Lu holds a master's degree from the Graduate Institute of International Affairs and Strategic Studies at Tamkang University. She worked as a journalist before entering politics.
Four years ago, Lin defeated the KMT's Jason Hu (胡志強), putting Taichung in the DPP camp for the first time in more than a decade.
Lin, who holds a PhD in political science from Yale University, has taught at local colleges. He was head of the now-defunct Cabinet-level Government Information Office 2004-2005 and served as secretary-general of his party in 2006 and 2007.
He was elected to the Legislature in 2012.