Taiwan environmental protection work a global example: U.S. official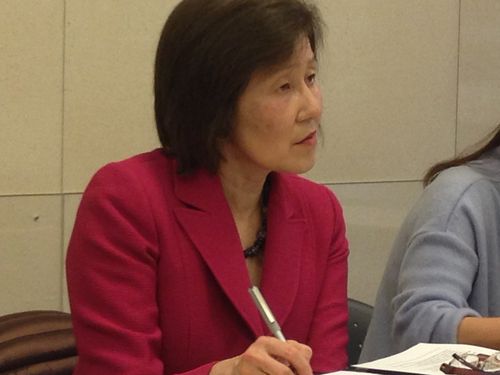 Taipei, Oct. 11 (CNA) Jane Nishida, principal deputy assistant administrator at the U.S. Environmental Protection Agency (EPA), on Thursday lauded Taiwan's contribution to environmental protection, which she said is a source of inspirations for countries in the region.
Taiwan has made great progress in tackling environmental issues over the past 20 years, including water, air pollution and electronic waste management, Nishida said during a luncheon speech at the annual Yushan Forum, established last year to promote stronger ties between nations targeted by the country's New Southbound Policy.
Countries across Asia have been drawn to Taiwan's environmental example, which is being shared under the International Environmental Partnership (IEP), a longtime collaboration between the U.S. EPA and Taiwan's Environmental Protection Administration, she said.
"Taiwan has now become a leader in environmental protection and a true global example," said Nishida.
Taiwan has also made concrete contributions by helping other countries protect their environment, Nishida said, giving the example of Sri Lanka which received equipment from Taiwan to help it monitor mercury pollution a few months ago. Taiwan's EPA and National Central University will analyze the data enabling the South Asian country to develop policies accordingly, she said.
Further, under an IEP program called the International E-waste Management Network, in which the U.S. and Taiwan work together to meet the challenge of global electronic waste, "a number of countries have learned from this Network, for example Taiwan's recycling management laws and adopted some of those practices," she said.
Network members also learned innovative approaches from companies such as Dell Computers, Acer and Sims Recycling, Nishida said, stressing that this is an example of how the IEP brings together the public and private sectors to facilitate innovative approaches to address crucial global problems.
"(IEP) is about tackling environmental challenges across the Asia-Pacific region and it is also the story of Taiwan leadership," she said.
Through the IEP, the U.S. and Taiwan have addressed issues related to environmental education, electronic waste management, air pollution, mercury monitoring, and remediation of contaminated soil and groundwater, she added.
Nishida has over 30 years of environmental experience in federal and state governments and with international and nongovernmental organizations. She has visited Taiwan several times to promote the IEP and launch other joint programs, most recently in July 2017.