Formal Holy See-China ties to happen but not soon: HK cardinal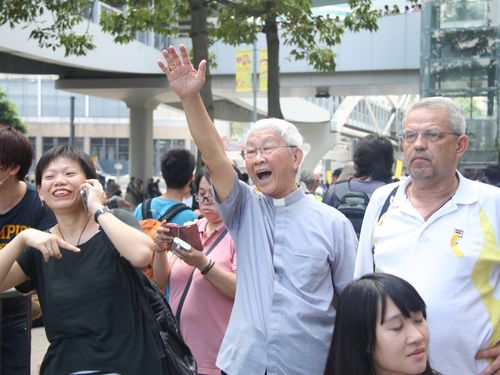 Hong Kong, Sept. 24 (CNA) Cardinal Joseph Zen Ze-kiun (陳日君), Bishop Emeritus of Hong Kong, believes the Vatican will eventually forge diplomatic ties with China but continue to maintain relations with Taiwan.
The establishment of ties will not happen anytime soon, as there are still issues that need to be "taken care of," Zen told CNA in the wake of a provisional agreement reached last Saturday between the Holy See and the People's Republic of China on the appointment of bishops.
Some have suggested that the pact, which dealt with an issue that has long been a source of tension between the Vatican and Beijing, was another step toward the normalization of relations between the two sides.
Zen said he believes the Holy See has long been prepared to abandon Taiwan but that formal ties are still far away because the Vatican cherishes its relations with Taiwan and giving up on a friend would be hard to do.
At the same time, severing ties would no doubt stir protests from the Church's radical leftists, he suggested.
Speaking of the agreement on the appointment of bishops, the Hong Kong cardinal who has long been a critic of the Chinese regime said the rapprochement will not be helpful to the Vatican.
If the two were to establish formal ties, it would be for secular rather than religious reasons, he contended.
The pope was totally "naïve" in believing in Beijing, Zen said, and while the negotiator who helped seal the deal understands China very well he only cared about achieving a diplomatic breakthrough for the Vatican.
He also wondered why the word "provisional" was thrown into the agreement, expressing concerns that the two sides may have hidden agendas.
The entire pact raises several concerns, one of which is giving legitimacy to the bishops who were previously appointed by Beijing.
Another is what will happen to the underground bishops who have been recognized by the Vatican but not the Chinese government, Zen said.
The deal, he said, will sacrifice the efforts the underground bishops have put into the community all these years, and give leverage to Beijing, which will tell the bishops to obey the government because it is required by the agreement with the pope.