Taiwan to raise global status with EU support: legislative speaker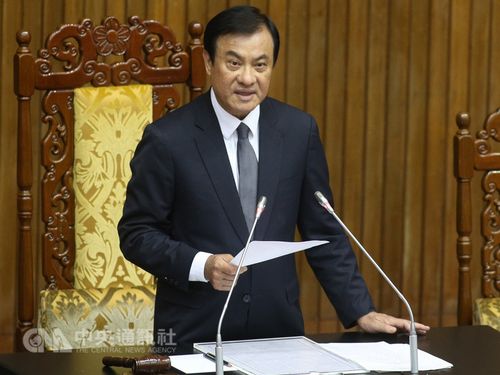 Taipei, Sept. 17 (CNA) Taiwan's Legislative Yuan Speaker Su Jia-chyuan (蘇嘉全) on Monday expressed his confidence that the country will be able to upgrade its international status after the European Parliament (EP) passed a report last week that called for an end to China's military provocation toward the island.
In recognition of the report on the state of EU-China relations adopted last Wednesday, Su said now is the time for Taiwan to expand diplomatically because with the help of the EU, it will be more successful in participating in international organizations.
The report showed that while China's authoritarianism is slowly increasing, the EP is calling for EU member states to urge Beijing to refrain from further military provocation towards Taiwan and endangering peace and stability in the Taiwan Strait, Su said.
Under the report, the EP emphasizes that all cross-strait disputes should be settled by peaceful means on the basis of international law and expresses its concern about a unilateral decision by China to start using new flight routes over the Taiwan Strait, the body of water separating the two sides.
It also encourages the resumption of official dialogue between Beijing and Taipei and reiterates its consistent support for Taiwan's meaningful participation in international organizations, such as the World Health Organization and the International Civil Aviation Organization, saying that Taiwan's continued exclusion from these organizations is not in line with the EU's interests.
Su also pointed out that in the past two years, approximately 10 delegations, consisting of nearly 100 people, from the EP have visited Taiwan's legislature.
Taiwan has also been received like a sovereign country when he led a delegation to the United Kingdom and France in July, Su pointed out, adding that it was the same treatment when his deputy Tsai Chi-chang (蔡其昌) visited central and eastern Europe in August.