Tsai vows to build Taiwan into financial management platform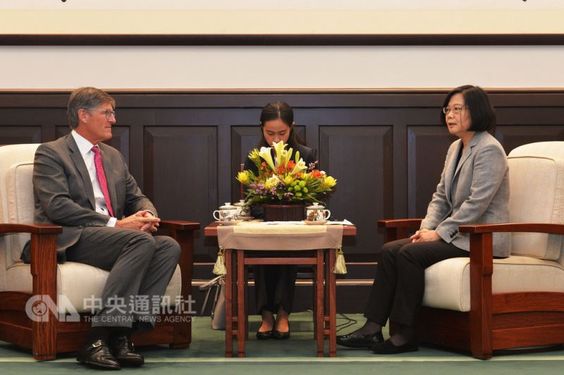 Taipei, Sept. 12 (CNA) President Tsai Ing-wen (蔡英文) aims to develop Taiwan into a globalized platform for financial management, by improving the stability and efficiency of existing financial systems and updating related regulations.
Tsai told Citigroup CEO Michael L. Corbat, at the Presidential Office Wednesday that one of the goals of her administration is to create a stable economic environment.
Since she took office in May 2016, Taiwan has had stable economic growth and that unemployment is the lowest it has been for more than 10 years, Tsai said at the meeting.
She also touted Taiwan's success in stock trading and share prices, with daily transactions at the Taiwan Stock Exchange up 31.1 percent this year compared with the previous year.
The Taiwan Stock Exchange index has also remained above 10,000 points since it broke through that barrier last May, she added.
Taiwan is sparing no effort in reinforcing its financial institutions by following international financial regulations, the president said, adding that Taiwan has also been changing outdated regulations and properly opening up to foreign investors to enhance the stability and efficiency of financial systems.
In the banking sector, her administration is trying to build Taiwan into a globalized financial management platform by expanding the size of financial institutions and improving incentives to encourage integration, Tsai said.
Expressing hope that Citigroup will invest more financial resources in Taiwan, Tsai told Corbat that as the fifth country in the world to implement a financial regulatory sandbox, Taiwan is determined to establish a friendly environment for financial operations.
Taiwan enacted the Financial Technology Innovation and Experiment Act, commonly known as the Financial Regulatory Sandbox, on April 30 as part of efforts to establish an experimental environment for financial technology start-ups and to utilize technologies to innovative financial products and service.
The regulatory sandbox mechanism is expected to provide a safe space for financial firms to test innovative products and services without fear of triggering possible regulatory consequences.
Citigroup, an American multinational investment bank and financial services corporation headquartered in New York, opened its first branch in Taiwan in 1965. On Wednesday, Tsai expressed thanks for the business group's long-standing development in Taiwan.