International pro-democracy activists gather in Taipei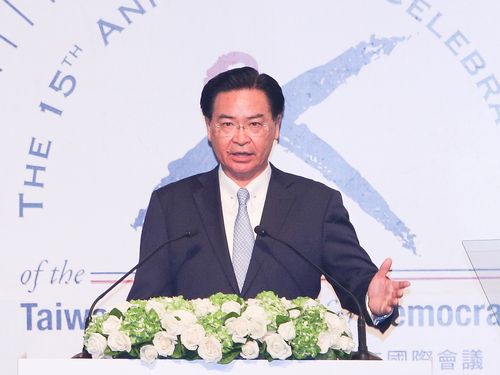 Taipei, June 25 (CNA) Global pro-democracy activists from several countries gathered in Taipei on Monday to discuss strategies to defend democracy as the Taiwan Foundation for Democracy (TFD) celebrated the 15th anniversary of its establishment.
Established in 2003 as the first national democracy assistance foundation in Asia, the TFD hosted a forum titled "Global Solidarity of Democracy in Taiwan" to celebrate the occasion, accompanied by an exhibition on the pursuit of democracy and freedom by Taiwan's people going back to the Japanese colonial period.
Joseph Wu (吳釗燮), Taiwan's foreign affairs minister, said in a speech that the TFD has played a crucial role in educating the public about democratic values such as individual rights and social justice by working with academics and nongovernmental organizations (NGO).
It has also played a leading role in the international community to establish cooperative partnerships with groups in other countries to strengthen democracy, and he hoped that like-minded countries can continue to support each other.
That is especially true at a time when democratic values, institutions and governments are being challenged by authoritarian regimes, said Wu, who is also vice chairman of the TFD.
Taiwan is looking to connect with the international community on every front to continue to contribute its strengths, Wu said, asserting that "democratic Taiwan is a stumbling block in the way of expanding authoritarian power."
Carl Gershman, president of the National Endowment for Democracy in the United States, said in his speech that American policy leaders have come to see China as the greatest challenge in the world today to democratic norms and U.S. interests.
Gershman said countries like Japan, South Korea and many others in the region and beyond are deeply concerned about the challenges to the liberal order as a result of not only the rise of China, but also the retreat of the U.S.'s commitment in Asia.
"Everyone we met with welcomes cooperation with Taiwan and the TFD in building greater democratic unity and defending the liberal order in Asia," Gershman said of his encounters with pro-democracy activists at the 9th World Movement for Democracy in Senegal.
During the discussion panels, Jakub Klepal, executive director of the Forum 2000 Foundation, said democracy is under pressure globally because it faces serious challenges that undermine its legitimacy and attractiveness.
Societies in the democratic world are increasingly divided, resulting from problems that include disconnects between political elites and citizens, inequality between rich and poor, and a growing misunderstanding between urban centers and the countryside, he said.
Klepal said the problems are amplified by the rapid changes in technology that make communication less effective.
"The deepening divisions on important issues strengthen political extremes and weaken a democratic system as a whole," he said.
He suggested that political elites listen to the concerns of citizens and take the issues seriously.
Najet Zammouri of the Tunisian Human Rights League, a member of the Tunisian National Dialogue Quartet that won the 2015 Nobel Peace Prize, said civil society plays a vital role in establishing democracy. "Civil society is the guarantee of democracy," she said.
Zammouri said civil society helps to develop democratic values, such as respect for opposing points of views, and to promote political participation.
Ivan Doherty, a senior associate at the Washington-based National Democratic Institute, highlighted the importance of regional pro-democracy organizations, saying that continuing dialogue and learning from each other is an essential way to strengthen democratic narratives.
"With the promotion of democracy, there is no beginning and no end. It is a continuous work in progress," he said. "We must always be prepared for the long haul."