President Tsai sends thank you letters to Japan, Singapore PMs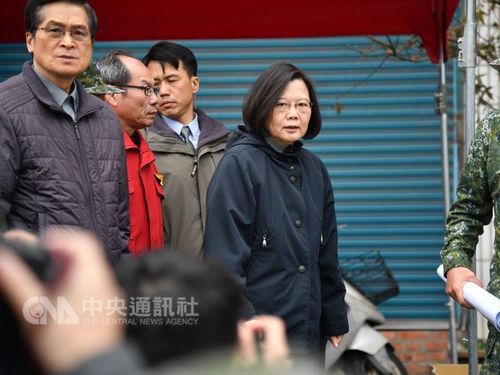 Taipei, Feb. 10 (CNA) President Tsai Ing-wen (蔡英文) has thanked Japan's Prime Minister Shinzo Abe and Singapore's Prime Minister Lee Hsien Loong (李顯龍) for their respective countries' support for rescue and relief efforts following the deadly earthquake that hit Hualien County on Tuesday.
According to a statement by the Presidential Office on Saturday, Tsai expressed her gratitude to the two prime ministers (PMs) and the people of their respective countries in letters sent to them Friday.
In the letter to Abe, the president mentioned his heartwarming gesture of writing "Taiwan, Go" in Chinese calligraphy, a message of encouragement that Tsai said the Taiwanese public really appreciated.
She also thanked Japan for sending a team of specialists skilled at rescuing those trapped in earthquake disaster sites so quickly, which has significantly helped with rescue efforts, the statement said.
These actions at such a difficult time exemplify the friendship and values shared between the two countries, Tsai wrote.
In the letter to Lee, Tsai thanked Singapore for providing relief supplies that have greatly increased the effectiveness of relief efforts.
She said this was a sign of the good friendship between Taiwan and Singapore, and she looked forward to deepening the relationship.
On Friday, the government of Singapore sent a military aircraft to Hualien loaded with earthquake relief supplies, including medical supplies, tents and flashlights.
Tsai has also been using Twitter to express her thanks to the international community for the outpouring of support and condolences in the wake of the magnitude 6.0 earthquake that severely damaged four buildings in downtown Hualien and left at least 14 people dead and 280 injured as of noon Saturday.