Pro-independence groups protest amid National Day celebrations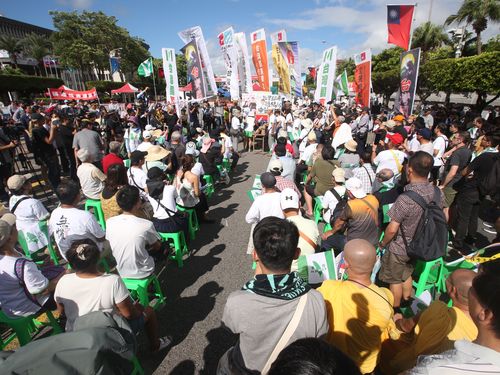 Taipei, Oct. 10 (CNA) Protesters from several pro-Taiwan independence groups staged a demonstration in Taipei where the National Day parade was held Tuesday, chanting slogans and burning paper effigies in protest over the Republic of China name and celebration.
Groups including members from the Taiwan Independence Reformation Association and the Alliance of Referendum for Taiwan gathered on Ketagalan Boulevard, away from a traffic-controlled area around the Presidential Office, to condemn the government's observation of the day, calling for a rejection of the "Republic of China" National Day.
The protesters then moved to the Chang Kai-shek Memorial Hall, where they burned a paper effigy to shun the ROC, while holding banners calling for support for a Taiwan Republic.
Some 1,600 police officers were mobilized to handle security around the perimeter of the official National Day events, which were held in front of the Presidential Office.