Constitutional Court rules in favor of same-sex marriage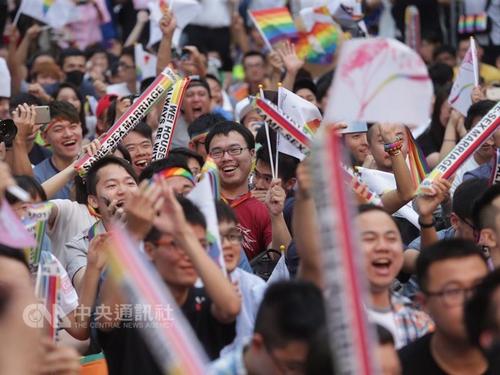 Taipei, May 24 (CNA) In a landmark ruling, Taiwan's Council of Grand Justices stated on Wednesday that the Civil Code provisions that does not ensure same-sex marriage rights is unconstitutional and asked the Legislature to amend relevant laws within two years to protect the interests of gay couples.
The historic constitutional interpretation makes Taiwan the first country in Asia to effectively legalize same-sex marriage. While the ruling was hailed by those in favor of legalizing same-sex marriage, protesters voiced their discontent outside the court.
The council made the ruling after it received two requests for a constitutional interpretation on the issue.
One of those requests was filed by veteran gay rights advocate Chi Chia-wei (祁家威) in 2015 after his attempt to register his marriage with his male partner was rejected by the household registration office in Wanhua District in Taipei in 2013 and subsequent court appeals failed.
The other request was filed by Taipei City government's Department of Civil Affairs in 2015 after three same-sex couples filed an administrative lawsuit against the government after their marriage registrations were rejected by the department.
The Constitutional Court held a hearing on the issue on March 24 allowing supporters and opponents of marriage equality to debate whether the Civil Code chapter on marriage permits same-sex marriage and if not, whether it violates the Constitution.
Article 972 of the Civil Code states that an agreement to marry "shall be made by the male and the female parties in their own [con]cord."
Even as the case has been taken up by the Council of Grand Justices, proposed same-sex marriage legislation is currently working its way through the Legislative Yuan.