Beijing to work with 8 cities, counties that accept '1992 consensus'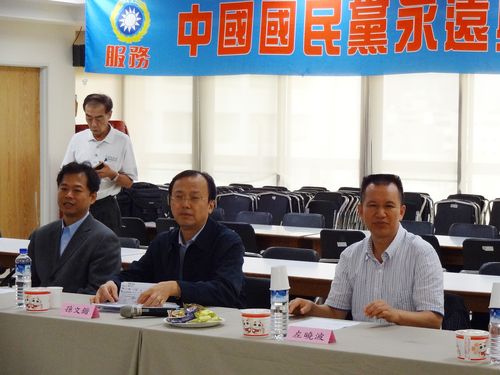 Kaohsiung, Oct. 14 (CNA) A visiting Chinese delegation said on Friday that the Beijing government will cooperate with the eight cities and counties in Taiwan that recognize the "1992 consensus."
Sun Wenkai (孫文鍇), leader of the Beijing Entertainment Farming & Agri-Tourism Association, said the Chinese capital is willing to have "deep cooperation " in tourism and agriculture with the eight cities and counties.
He expressed the hope that agricultural cooperation could begin soon.
Taiwan's previous Kuomintang (KMT) administration saw "the 1992 consensus" as referring to a tacit agreement between the two sides of the Taiwan Strait that there's only one China in the world, with both sides free to interpret its meaning.
Cross-strait relations turned cool since President Tsai Ing-wen (蔡英文) assumed office in May, because she and her Democratic Progressive Party (DPP) have never recognized the existence of the consensus, even though the Chinese government thinks it is the foundation for developing good relations between the both sides.
The Chinese group, which canceled its meeting with Kaohsiung tour operators, a visit of Kaohsiung Products Store and Fo Guang Shan Monastery, said it is not visiting Taiwan to explore tourism and it has no plans to call on local governments.
Instead, the purpose of the visit is to learn about the development of Taiwan's countryside, push for exchanges of specialty agricultural produce between Beijing and Taiwan, as well as the development of leisure farming on the island.
Sun said that the group has visited Puli, Nantou, as well as B&Bs, and tea farms on Mt. Ali and were impressed by what they saw over the past few days, expressing the hope that they can learn more about Taiwan's specialty agricultural products and explore how they can enter the Beijing market.
DPP Kaohsiung Mayor Chen Chu (陳菊) said the delegation has not contacted her city government and she didn't know why it cancelled the original itineraries in Kaohsiung.
Last month, the heads of Hsinchu, Miaoli, Nantou, Hualien, Lienchiang, Taitung and Kinmen counties as well as New Taipei City -- which are run by mayors or magistrates from the KMT or who are independents -- visited China to express the hope that it can continue to purchase Taiwan's products, expand exchanges in tourism and culture, and establish a communication channel between China's tourism bureaus and Taiwan's local governments.
Zhang Zhijun (張志軍), head of the Taiwan Affairs Office under China's State Council, said at the time that one thing the eight Taiwan local chiefs have in common was their "identification with the 1992 consensus."