Veterans reintroduce goose step in Taipei parade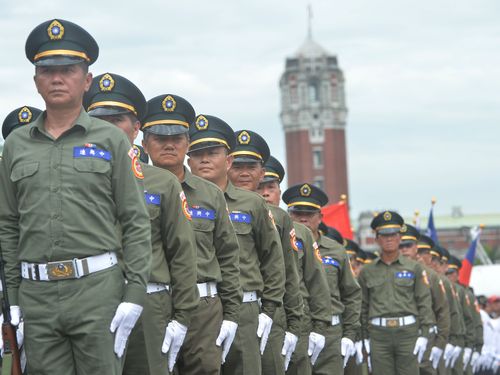 Taipei, June 12 (CNA) Hundreds of retired military officers and soldiers staged a parade in front of the Presidential Office in Taipei on Sunday, displaying the technique of goose step marching for the first time in many years in Taiwan.
Henry Ho (何啟聖), deputy general manager of the 1111 Job Bank, who initiated the parade, said the sight of 500 veterans marching in goose step symbolized "long-lost perseverance, fortitude, and practical goals in Taiwan."
He said the veterans, all in their 50s or older, practiced over the past seven weeks, to perfect the formal marching step, which had not been seen in a military parade in Taiwan for 13 years.
Some of the veterans who took part in the parade told reporters that their goal was to help raise the awareness of the contributions of people serving in national defense and to pay tribute to those who fought to defend Taiwan.
The parade was carried live on the Facebook website of the Taipei-based China Television Co. (CTV) and drew thousands of spectators, including former First Lady Chow Mei-ching (周美青) and Kuomintang Chairwoman Hung Hsiu-chu (洪秀柱).
"Go for it, go for it" the crowd chanted as the parade entered the square in front of the Presidential Office, with the national flag held aloft.
"Hail the Republic of China," some people shouted.
"Topple Taiwan independence" others called out.
A drum section made up of Alumni of Chung Cheng Armed Forces Preparatory School, and a fleet of heavy motorcycles, also joined the parade, drawing warm applause from the spectators.
When the band began playing the national anthem, the crowd joined in, singing the words.
After the parade, Lin Chin-chang (林錦章), 53, who was deputy commander of the 210th division stationed in Hualien County, said he was grateful for the cheers from his family members and friends when he was performing the goose step.
"Nothing can compare with action, however, after having listened to older veterans taking about their bravery in past years" he said.
Lin said he decided to take part in the parade, not to prove that he was still in shape, but to rather to show his passion and to honor the military spirit.
Taiwan's military discontinued the goose step in formal parades in 2003.
Earlier this year, a parade at a graduation ceremony for military police was heavily criticized as disordered.
Ho said it was that performance that sparked the idea of recreating the spirit of the military parades of the past.
Sunday's parade on Ketagalan Boulevard was organized fully by civilians in the hope of boosting morale and encouraging positive attitudes in the country, he said.
(By Sunrise Huang, Claudia Liu, Justin Su and Elizabeth Hsu)ENDITEM/pc