Stanley Kao assumes position as Taiwan's new representative to U.S.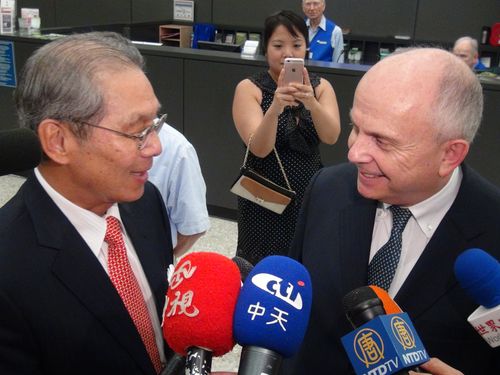 Washington, June 5 (CNA) Stanley Kao (高碩泰), Taiwan's new representative to the United States, arrived in Washington on Sunday to take up his post.
On arrival at Washington Dulles International Airport around 3 p.m., Kao and his wife Sherry Sung (宋小芬) were welcomed by Joseph Donovan, managing director of the Washington office of the American Institute in Taiwan (AIT), which handles U.S. relations with Taiwan in the absence of diplomatic ties.
Speaking to reporters at the airport, Kao said that while Taiwan's new government has its own policies and mode of operation, it will continue the policy of maintaining long-lasting relationships with the U.S. and pursuing "predictable, reciprocal and mutually beneficial" bilateral ties.
Ties with the U.S. are the most important aspect of the Republic of China's (Taiwan) foreign relations, Kao said. He said the two countries are long-term partners that share core, universal values and have been working together to ensure regional peace and security.
Kao is a career diplomat who previously served as director-general of the Department of North American Affairs in the foreign ministry, Taiwan's deputy representative to the U.S., and representative to Italy.
His former posts also included director-general of the foreign ministry's Department of International Cooperation and Economic Affairs and Taiwan's deputy representative to the World Trade Organization.