McCain: U.S.-Taiwan friendship remains strong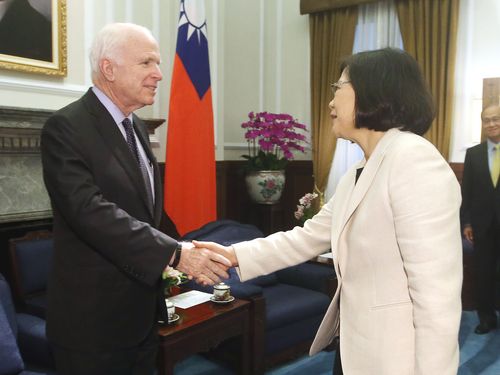 Taipei, June 5 (CNA) The chairman of the Senate Armed Service Committee of the United States said after meeting with President Tsai Ing-wen (蔡英文) in Taipei Sunday that U.S.-Taiwan friendship "remains strong."
In a twitter post, John McCain (R-AZ) also lauded Taiwan as "the only democracy on Chinese soil."
McCain was leading a group of U.S. senators, including John Barrasso, Gory Gardner, Lindsey Graham, Tom Cotton, Joni Ernst and Dan Sullivan, that arrived earlier in the day.
Tsai urged the group to help facilitate U.S. arms sales to Taiwan to beef up the country's defense, and to strengthen bilateral exchanges and cooperation in the area of military security.
McCain, a staunch supporter of Taiwan, said his government hopes Taiwan will increase its defense budget to a level equal to 3 percent of its gross national product and invest in maintaining its defense capabilities, such as ground-to-air missiles and submarines.
He noted that the U.S. is confident that Tsai will maintain the status quo in cross-Taiwan Strait relations. In the meantime, he added, Beijing must refrain from actions that might sabotage the stability of cross-strait ties, including those that might affect Taiwan's economy and international business.
In answer to media questions regarding the Tsai government's expected role in the South China Sea, McCain said that a free and strong Taiwan can contribute to maintaining freedom of navigation in the disputed area.
Freedom of navigation in the South China Sea should not be controled by any individual country, including China, he said, adding that an international arbitration court will hand down a ruling soon on a case involving China and the Philippines -- which also has a claim on the area -- a ruling he said he hopes will be honored by all concerned, including China.