Chinese bullying sends Taiwan packing from OECD meeting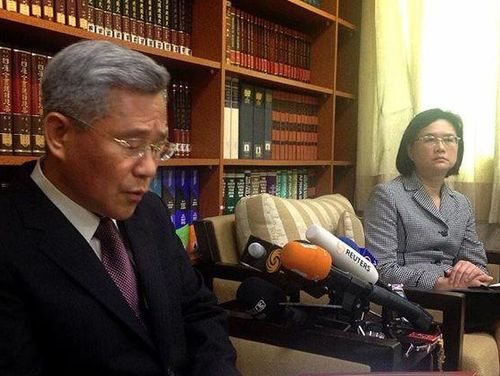 Taipei, April 19 (CNA) Taiwan has lodged strong protests against China, Belgium and the Organization for Economic Cooperation and Development (OECD) after a Taiwanese delegation was forced to leave a meeting in Brussels on Monday due to Chinese bullying.
Though Taiwan is not a member of the OECD, it was invited as a dialogue partner to attend a high-level symposium on excess capacity and structural adjustment in the steel sector co-sponsored by Belgium and the OECD.
However, at the meeting, which was limited to the participation of government officials, the Chinese delegation demanded that Taiwan's delegation leave because it was not of a high enough level.
Taiwan's delegation resisted but had to comply after Belgian Deputy Prime Minister Kris Peeters caved in to Chinese pressure and asked Taiwan's delegation to leave.
The Ministry of Economic Affairs (MOEA) said in Taipei on Tuesday that it was the first such incident since Taiwan joined the OECD Steel Committee in 2005.
Lu Cheng-hua (呂正華), deputy director-general of the MOEA's Industrial Development Bureau, said he regretted the incident.
The Ministry of Foreign Affairs (MOFA) on Tuesday rejected China's claim about the delegation.
Ministry spokeswoman Eleanor Wang (王珮玲) said Beijing's delegation asked Taiwan's delegation to withdraw from the meeting because the "standing of the leader of Taiwan's delegation was not high-level."
But the standing of Taiwan's delegation head -- Shen Wei-cheng, a section chief in the MOEA's Industrial Development Bureau -- was similar to that of other national delegation leaders, Wang said, adding that Taiwan had sent section chief-level officials to attend the meetings in the past.
Michael Hsu (徐佩勇), director-general of the MOFA's Department of International Organizations, said Taiwan has attended OECD Steel Committee as an observer since 2005.
It has sent delegates to attend the meeting every year and made substantive contributions, winning recognition from the OECD and all members.
The high-level symposium was to be followed by a regular Steel Committee meeting on Tuesday that Taiwan's delegation still plans to attend.
China, which claims Taiwan as part of its territory, has ratcheted up its pressure on Taiwan in the international community since Tsai Ing-wen (蔡英文) of the pro-independence Democratic Progressive Party won Taiwan's presidential election in January.
It has recently insisted, for example, that if Taiwan wanted to join the Asian Infrastructure Investment Bank, it would have to follow the Hong Kong model and ask China's Finance Ministry to apply for membership on its behalf, an unacceptable proposition for Taipei.
Tsai, who will take office on May 20, has pledged to maintain the status quo in cross-strait affairs.
Update: ●Taiwanese delegation allowed to attend OECD meeting