KMT comes out on top in councilor elections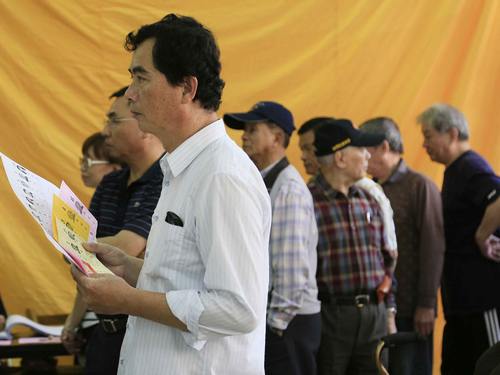 (Click HERE for our special election site)
Taipei, Nov. 29 (CNA), The ruling Kuomintang won the highest number of councilor seats in Saturday's local government elections, taking 386 nationwide, according to Central Election Commission statistics.
The main opposition Democratic Progressive Party (DPP) won 291 seats, and independent candidates took a total of 203, while a net 27 went to various minor parties.
In Taipei, the KMT won 28 of the 63 city councilor seats, the DPP 27, the Chinese New Party two, the People First Party (PFP) two, the Taiwan Solidarity Union (TSU) one, and independents three. In the last election in 2010, the KMT won 31 seats, and the DPP 23.
In Taichung City, the KMT garnered 28 of the 63 councilor seats, the DPP 27, the PFP two, and independents six, according to the CEC data. In the 2010 election, the KMT took 27 seats, and the DPP 24.
In Kaohsiung's 66-seat city council, 24 went to the KMT, 33 to the DPP, five to independents, two to the Non-partisan Solidarity Union, and one each to the PFP and TSU. In the 2010 election, the KMT's count was 29 seats, and the DPP's 28.
In New Taipei's city council elections, the DPP won 32 seats, the KMT 26, independents seven, and the TSU one. In 2010, the KMT secured 30 seats, and the DPP 28.
In Tainan, which has a 57-seat city council, the count was 28 for the DPP, 16 for the KMT, 12 for independents, and one for the TSU. In the previous election, the KMT won 13 seats and the DPP 27. Although the KMT secured the highest number of councilor seats throughout Taiwan's 22 cities and counties, the DPP won the popular vote in those elections, with 4,515,532 votes, or 37.08 percent of the total valid ballots cast.
The KMT was close behind with 36.86 percent of the total, or 4,488,789 valid ballots.
Among the minor parties, the TSU received 224,904 votes, or 1.85 percent; the PFP 190,107, or 1.56 percent; and the Chinese New Party 129,634, or 1.06 percent, CEC data showed.
(By Elaine Hou)ENDITEM/pc