KMT's Liu proclaims victory in Lienchiang magistrate election (update)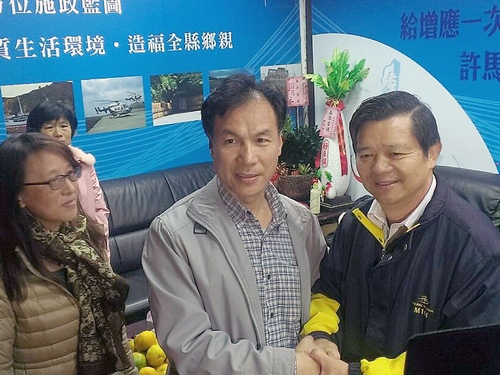 (Click HERE for our special election site)
Taipei, Nov. 29 (CNA) Liu Cheng-ying of the ruling Kuomintang (KMT) said he has won the race for magistrate of the outlying Lienchiang County, commonly known as Matsu, hours after the polls closed Saturday following nationwide local elections.
Pending confirmation by election officials, the 57-year-old claimed victory over incumbent Magistrate Yang Sui-sheng -- also of the KMT.
As of 9 p.m., Liu had garnered more than 4,300 votes, while Yang had secured just over 2,200, the local TVBS network reported. There are 10,040 eligible registered voters in Taiwan's smallest county, which lies just off the coast of China.
Lin said that when he takes office in late December, he will focus on improving access to Matsu and boosting local tourism.
Over the past year, he said, he spent much time traveling throughout the county's four townships, trying to determine the expectations of the local people.
Lin said he and his administrative team will give top priority to the problem of the frequent closure of the country's airports in foggy conditions and to facilitating more convenient travel between Matsu's Beigan Island and the nearby Chinese province of Fujian.
Liu said he will also work to boost local tourism by such means as promoting the special "Blue Tear" phenomenon that is best seen in spring off the island of Matsu when glowworms, ruffled by the waves, emit a blue light.
Liu, a doctor at a local hospital, has a similar background as Yang, who has also served as a doctor in Lienchiang.
The two previously competed in 2009 in a three-way race that included an independent candidate.
(By Worthy Shen and Elaine Hou; click here for a list of results of this year's local elections)ENDITEM/WH/pc