Hong Kong universal suffrage would benefit cross-strait ties: Ma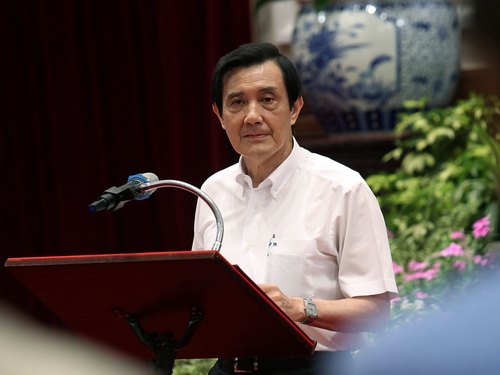 Taipei, Sept. 30 (CNA) President Ma Ying-jeou said Tuesday that the Kuomintang (KMT) looks forward to universal suffrage in Hong Kong as a positive development in cross-strait ties, cautioning obstacles to the democratic process in the semi-autonomous region will hurt Taiwan-China relations, according to a member of the ruling party.
Speaking in his capacity as KMT chairman, Ma made the remarks at his party's weekly meeting, said the party member who did not wish to be named.
Ma reportedly expressed concern over the ongoing demonstrations in Hong Kong, which have turned into a tense stand-off between police and pro-democracy protesters.
He cited freedom and democracy as core values of the KMT, and said his party fully understands and supports the Hong Kong public's appeals for universal suffrage, the party member relayed.
Beijing promised Hong Kong a "high degree of autonomy" for 50 years after its handing over to Chinese rule in 1997 -- "Hongkongers ruling Hong Kong" and direct elections for the chief executive by 2017, Ma noted, according to the source.
The KMT urges China to display tolerance and confidence in dealing with the universal suffrage issue in a peaceful, cautious and self-restrained manner, the party member said.
Ma expressed hopes that Hongkongers will remain rational and peaceful in their appeals and promote the democratic process in a mature and steady way, according to the party member.
A day earlier, Ma as president called for peace and level-headedness between the protesters, who want freedom in choosing the leader of their special administrative region, and the government in Beijing, which has set restrictions on who can stand for the 2017 election -- Hong Kong's first.
Also on Tuesday, the Mainland Affairs Council (MAC), Taiwan's top China policymaking body, said the government supports Hong Kong's pursuit of democracy and hopes the governments of China and Hong Kong will heed the voices of the people.
The MAC said in a press release that Hongkongers have high expectations for democratic elections will use the outcome of the current situation to see whether China fulfills its promises of "one country, two systems," meant to guarantee Hong Kong's economic and political systems remain unchanged through 2047.
Taiwan is very concerned and supports the people's pursuit of democracy, the MAC said, calling the democratic process conducive to Hong Kong's future stability and prosperity.
The council also said it will keep a close watch on further developments in Hong Kong and urge authorities there to take measures to ensure the safety of the people.