Taiwan wants compensation from Vietnam for riot losses (update)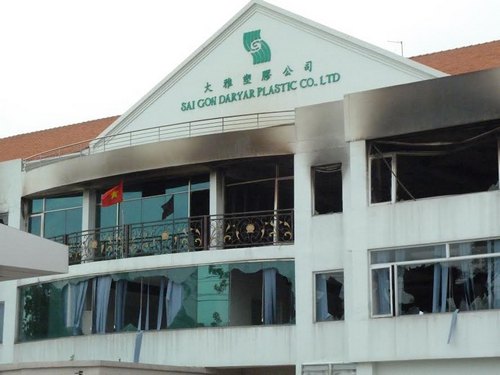 Taipei, May 15 (CNA) Taiwan will demand compensation from Vietnam for losses caused by anti-China riots in the Southeast Asian country that affected Taiwanese businesses operating there, a Taiwanese official said Thursday.
The priority for now is to ensure the safety of Taiwanese businessmen and expatriates living in Vietnam, Foreign Minister David Lin said, adding that the government will help Taiwanese businesses seek compensation from Vietnam after the riots end.
Lin made the remarks during a hearing of the Legislature's Foreign Affairs and National Defense Committee while fielding questions from lawmakers on the development of the riots in Vietnam and the government's response measures to help Taiwanese in the affected areas.
Taiwan and Vietnam signed an investment protection agreement in 1993 that can be used as the basis for Taiwanese businesses to seek compensation from Vietnam, Lin said.
Meanwhile, he went on, Taiwan will talk with other countries that are suffering as a result of the ongoing riots about working together to seek compensation.
In addition to Taiwanese businessmen, companies from Singapore, Japan and South Korean have also suffered as a result of the riots, Lin added.
The riots erupted May 13 after Vietnamese crowds took to the streets to protest a Chinese oil-drilling venture in an area of the South China Sea that is also claimed by Hanoi.
Lin said the situation in Vietnam appeared to have become relatively quiet, with most of Binh Duong Province under control, although small-scale unrest still remained in Dong Nai Province.
He made the comments as the government worked with China Airlines, one of Taiwan's major international air carriers, to organize charter flights later in the day to Ho Chi Minh City to pick up Taiwanese expatriates and businessmen wanting to flee the country.
(By Elaine Hou)ENDITEM/J/J
Related stories:●May 15: Taiwanese factories in Vietnam resuming operations●May 15: Hundreds of Taiwanese factories affected by Vietnam riots: MOEA●May 15: Situation in Vietnam has improved: foreign minister
(Click here for developments related to the anti-China protest-turned-riot in Vietnam.)