Ruling party lawmaker blames speaker for selling out Kuomintang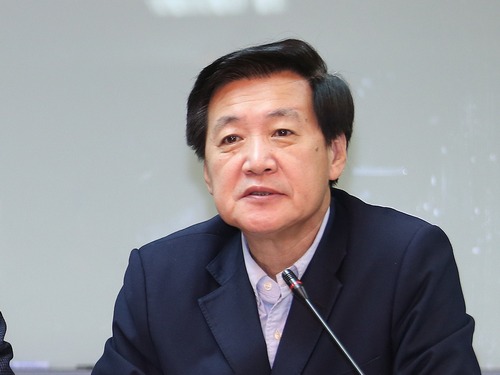 Taipei, April 6 (CNA) A leader of the Kuomintang (KMT) legislative caucus said on Sunday that he felt that Legislative Speaker Wang Jin-pyng has sold out the KMT by promising to enact a law to monitor pacts with China before resuming legislative review of Taipei's trade-in-services pact with Beijing.
Fai Hrong-tai, a deputy secretary of the KMT caucus, said at a news conference that Wang, who made the promise earlier in the day during a visit to protesters occupying the Legislature, should have consulted with the KMT caucus in advance, rather than keeping them in the dark.
Fai said Wang asked KMT legislative leaders to accompany him on his visit and, therefore, gave the public the wrong impression that the ruling party agreed with his statement.
Fai said he had aired his displeasure to Wang during a phone call afterwards, and continues to feel a strong sense of being betrayed in defiance of Wang's explanation that he kept his own counsel while writing the statement.
Fai's statement fell in line with Lin Hung-chih, the KMT whip at the Legislative Yuan, who complained earlier in the day that Wang asked him to visit the protesters, but kept him in the dark about promises he was to make to the students.
He cited Deputy Speaker Hung Hsiu-chu, a KMT lawmaker who was also in Wang's company during the visit, as telling him afterwards that she had no knowledge in advance of Wang's promises, either.
Lin said he was taken aback by Wang's statement, adding that the speaker should have a moral obligation to inform the KMT caucus of his announcement beforehand.
However, DPP legislative whip Ker Chien-ming dismissed the KMT lawmakers' remarks as being a poor excuse to back down.
Noting that the KMT lawmakers surrounded Wang when the speaker read his announcement and shouted "Go, go Taiwan" along with Wang after his announcement, Ker said they could not deny that they had agreed with Wang's promise.
(By Maubo Chang) ENDITEM/ROBERT
Related stories:●April 6: DPP lauds speaker for satisfying student demand on oversight law●April 6: Legislative speaker promises to enact cross-strait monitoring law first (update)●March 26: China pact deadlock can be best resolved in Legislature: president●March 26: Talk of the Day -- Legislators most to blame for parliamentary paralysis
(Click here for the latest on the ongoing protest and developments since the Legislature occupation starting March 18.)