U.S. sees Taiwan as important partner: AIT head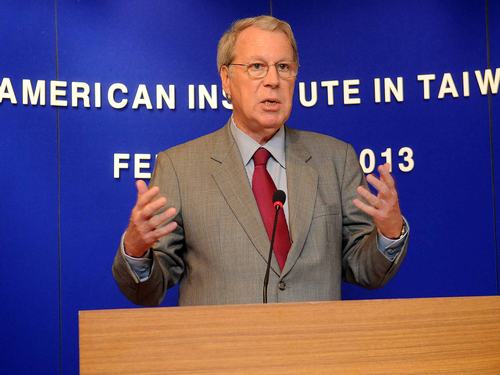 Washington, Aug. 28 (CNA) The U.S. government considers Taiwan an important partner and is committed to a long-standing relationship with Taiwan, American Institute in Taiwan (AIT) Chairman Raymond Burghardt said Wednesday.
Despite their unofficial nature, relations between Taipei and Washington have been moving forward in a very healthy and productive way, Burghardt said during a discussion on U.S.-Taiwan ties held by the Washington-based U.S.-China Policy Foundation.
"Over the last four years, the Obama administration has made a very deliberate effort to deal with Taiwan as an important partner in its own right, not simply as an issue in our relations with Beijing," Burghardt said.
"We've also made an effort to treat Taiwan with dignity," he added.
He noted that there has been a significant increase in policy-level U.S.-Taiwan bilateral links over the past several years, including regular consultations by civil and military representatives and resumed visits to Taiwan by high-ranking U.S. officials.
Also, he continued, the U.S. government has routinely briefed Taiwan on its meetings with China, while Taipei has kept Washington informed of its dialogue with Beijing.
He said the United States values the progress that President Ma Ying-jeou and his administration has made in stabilizing cross-Taiwan Strait relations.
"We see that stability as in our interests as well as in Taiwan's. The restoration of direct cross-strait communication has obviously helped to minimize the possibilities for miscalculation and misunderstanding," he said.
He said Washington respects Ma's conviction that Taiwan must conduct negotiations with China from a position of confidence based on an ability to deter coercion.
Burghardt said U.S. sales of military equipment to Taiwan is only one aspect of U.S. support for Taiwan's security, alongside training, information sharing and other cooperation programs.
"We will continue to stand by the commitment we made to Taiwan 34 years ago (when the U.S. severed diplomatic ties with Taiwan)," he said.
He described the under-construction new AIT building in Taipei as "an important symbol of our commitment to a long-standing relationship with Taiwan," pointing out that the construction marks the first time in at least 30 years that any country has built a dedicated building for its representative office in Taiwan.
(By Tony Liao and Y.F. Low)ENDITEM/J