Taiwan-Philippines fishery meeting tied to shooting investigation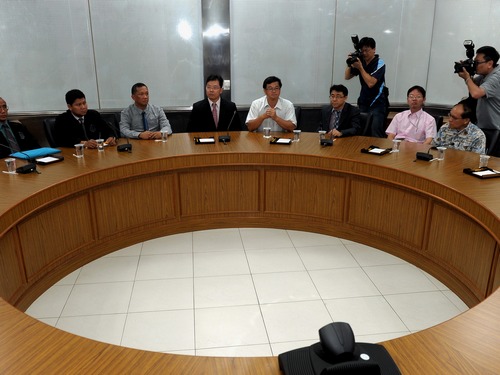 Taipei, July 14 (CNA) A second meeting to deal with fishing disputes between Taiwan and the Philippines is set to be held after reports on the shooting death of a Taiwanese fisherman by Philippine coast guard personnel are released and the victim's family receives compensation from Manila, officials said Sunday.
Taipei and Manila held a meeting June 14 to address fishing disputes in waters where their exclusive economic zones overlap.
The Philippines had proposed holding a second meeting in the first week of July, but has not yet made a request for a firm date, Benjamin Ho, director-general of the Ministry of Foreign Affairs' Department of East Asian and Pacific Affairs, told CNA.
Asked about the issue, Foreign Minister David Lin said the fishery meeting "is tied to" the Philippine report on the shooting incident in which 65-year-old fisherman Hung Shih-cheng was killed.
According to Taiwan's Ministry of Foreign Affairs, both sides have completed respective reports on the May 9 attack, in which the Taiwanese fishing boat the Kuang Ta Hsing No. 28 was strafed by a Philippine patrol vessel while operating in the overlapping exclusive economic zones of the two countries.
But the reports have yet to be released, more than two months after the shooting.
The Philippine report, compiled by the National Bureau of Investigation (NBI), has been sent to Philippine President Benigno Aquino III and is still awaiting his approval.
Lin said Aquino has been discussing the issue with the Philippine Department of Justice and the NBI. Lin expressed hope that the Philippines will release the report as soon as possible.
Meanwhile, Taiwan and the Philippines have reached a consensus to give priority to the reports and the Philippines' compensation for the victim's family, a Taiwanese diplomatic source said.
The second fishery meeting will not be held until the two issues have been resolved, the source said.
In the June 14 meeting, the two sides reached an initial consensus on several issues, including no use of force to police fishing grounds and establishing a mechanism that will enable each side to notify the other in the event of fishery incidents.
Taiwan "will continue to push the Philippines" to keep its promise to revise its maritime law enforcement regulations, the source said.
"We expect concrete results on the issue to be reached during the second meeting," the source added.
(By Rogge Chen and Elaine Hou)ENDITEM/J