Manny Ramirez to end baseball journey in Taiwan: Rhinos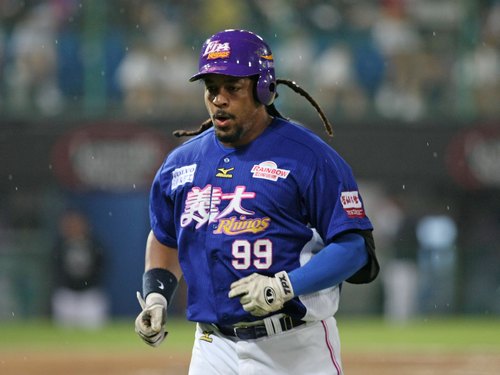 Taipei, June 19 (CNA) Former MLB slugger Manny Ramirez will soon end his brief but productive baseball journey in Taiwan after playing in the country's professional baseball league for just under three months, the EDA Rhinos announced Wednesday.
Ramirez, who signed a three-month deal with the Kaohsiung-based team, notified the franchise Wednesday of his decision to leave Taiwan before completing his contract that ran until June 30, the Rhinos said in a statement.
The 41-year-old, who has been a huge draw in Taiwan's Chinese Professional Baseball League, is scheduled to leave the country on June 21.
The Rhinos did not give a reason for Ramirez's departure, except to say that he was getting homesick, but Japanese and Taiwanese media are speculating that he is being pursued by the Chiba Lotte Marines of Japan's Nippon Professional Baseball league.
Ramirez, who came to Taiwan hoping to earn another shot in the U.S. major leagues, has hit .352 with eight home runs and 43 RBIs in 49 games with the Rhinos, apparently drawing the attention of the Marines, who are looking to add power to their lineup.
Ramirez, who is being paid around US$25,000 per month to play in Taiwan, would make far more than that in Japan, if in fact he is heading there to play.
Aware that Ramirez was signed only to the end of June, the Rhinos did what they could to keep him happy during his time in Taiwan and try to persuade him to stay with the team to the end of this year if not into next year.
They gave him a raise in April and arranged for him and his uncle to live in the presidential suite of the hotel owned by the club's parent company, the E-United Group.
In its statement, the team thanked Ramirez for his contribution to the team and to Taiwan's baseball environment during the three months he played here.
The Rhinos were expected to remove Ramirez from their roster later Wednesday and fill the spot with pitcher Jesse English.
Ramirez, who began his major league career with the Cleveland Indians in late 1993, hit 555 home runs in the majors to rank 14th all-time.
(By Lin Hung-han and Jamie Wang)enditem/ls