Trend for late marriages on rise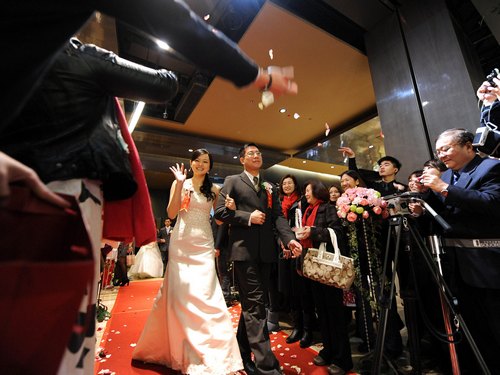 Taipei, May 25 (CNA) The average age in Taiwan for people getting married for the first time in 2012 was 31.9 for men and 29.5 for women, up 0.9 years for men and 2.7 years for women from 10 years ago, according to statistics published by the Ministry of the Interior (MOI) Saturday.
In terms of nationality, the average age of first marriages for foreign men was the highest at 37.1, followed by men from China, Hong Kong and Macau at 35.3, Taiwanese men at 33.7 and men from Southeast Asia at 33.1, the MOI said.
Women from China, Hong Kong and Macau registered the highest average age of first marriage at 32.3, followed by foreign women (excluding Southeast Asian women) at 30.9, Taiwanese women at 30.8 and Southeast Asian women at 28.9.
The MOI statistics show that the number of couples getting married in Taiwan from January to April this year was 48,929, a decrease of 629, or 1.3 percent, from the same period of 2012.
According to the statistics, 86.7 percent of the marriages registered in the first four months involved local citizens, while 13.3 percent involved foreign spouses (one percentage point lower than the same period of last year).
Among those marriages involving spouses from other countries and regions, those from China, Hong Kong and Macau accounted for the most at 62 percent of the total, followed by those from Southeast Asia at 22.4 percent and other countries at 15.5 percent.
(By Hsieh Chia-chen and Y.L. Kao) ENDITEM/J