Foreigners discover Chinese history through speech contest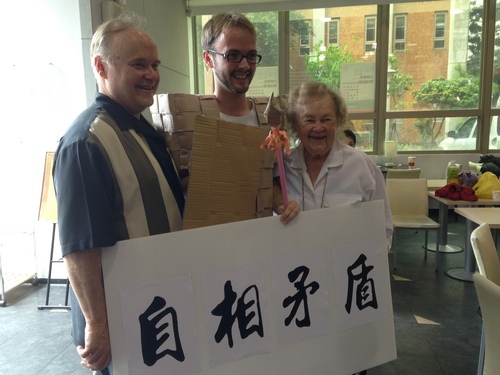 Taipei, May 5 (CNA) Nearly 100 contestants from 30 countries participated Sunday in a Mandarin speech contest in Taipei.
Now in its ninth year, the contest required participants to share a short story from Chinese history so that they could discover local culture in a more interesting way, the organizers said.
While Zhuge Liang, a renowned strategist during the Three Kingdoms period, was the top choice for the contestants, Chinese fables and the stories behind Chinese idioms were also popular.
Mark Blohm, a 30-year-old from Boston, demonstrated martial arts during his speech about Yue Fei of the Southern Song Dynasty, who is known for his kung fu skills and patriotism.
"Participating in the speech contest helps me build up more confidence," said Blohm, who came to Taiwan three years ago with no knowledge of the language.
Cleisha-Bernise Una Springer from Saint Lucia, meanwhile, sang during her fluent presentation of a story about Li Bai, one of the most famous poets in Chinese history.
A choir member since she was a little girl, Springer said she hoped to add a fresh taste to the story, although she admitted that she felt extremely nervous throughout her performance.
Besides the contestants, the event drew their family members from thousands of kilometers away.
Brian Bumpas, who traveled with his 89-year-old mother from Los Angeles to show support for his son, said he is happy to see his son take his advice to study Mandarin.
"I am so proud of him," said the 57-year-old.
A total of 20 contestants were selected after the competition to vie for a top prize of NT$60,000 (US$2,000) in a contest scheduled for May 19.
(By Lee Hsin-Yin) ENDITEM/J