Find an affordable apartment in Taipei by going native
Apartment hunting is always a challenge, but being a stranger in a strange land such as Taiwan can make things even tougher. For those who of you moving to the country for the first time, Focus Taiwan has put together a list of resources and some handy tips that should help you in your quest for a new abode.
Foreigners fresh off the jet may be tempted to rely on the familiar English websites. Low hanging fruits such as AirBNB, Facebook, Craigslist at first blush, like fool's gold, seem promising, but often fail to deliver.
●English expat websites
With all the hype and hoopla over AirBNB, many newbies check in here first for a short stay with the hope of negotiating directly with the landlord for a longer stay at a lower price, but with a steady stream of jetsetters jostling for the perfect pad, your chances are slim. For the short term, why not save some money and stay at a hostel instead?
There are a couple of local Facebook groups that post ads for apartments and roommates, such as Taiwanapartmentsandroommates and Taipei.taiwan.apartment.rentals, with 15,500 and 3,464 members respectively. They can get you started on your hunt, but competition can get rather intense at the start of a new semester and low-priced places will go fast.
A venerable but aging site used by many old Taiwan hands for eons is Tealit. Its apartment section offers many search filter options and many places near the prestigious National Taiwan University for the student crowd with prices definitely cheaper than Craigslist.
However, its listings are still more expensive than local Chinese language sites, often lack photos, and have a relatively limited selection to choose from.
In general, with apartments listed on English websites, you might be charged the "foreign tax" by landlords, which essentially means a higher price than a local, but some owners justify this based on the extra money spent on modifying the place to suit Western tastes.
●Websites the locals use
If you're less than satisfied with the results you achieve on the expat sites, you should try going native and do what the locals do and use the Chinese language websites. If you can't read Chinese, you'll need to enlist a native speaker to help you.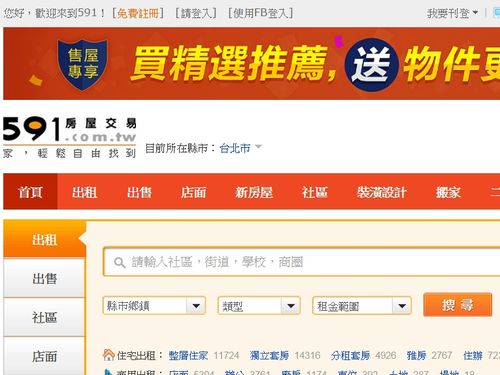 The king of Taiwanese rental websites is 591, which has the highest web traffic and number of apartment listings of any site on the island. Right from the start you can use their map to choose where to begin your quest. Like most sites of this ilk, you can search by city, district, neighborhood, type of apartment and price range.
Each listing usually comes with a number of photos, information about furniture and amenities, maps of the apartment's location and nearby landmarks, a Q&A section, and a list of recent transactions of similar apartments in the area.
On the left menu bar next to the search results are many options to further refine the search by price, size, number of bedrooms, etc. Under listing party (經辦人選擇), select listed by owner (屋主刊登) and hit the reselect button. This way you can cut out the agent and go straight to the landlord if you want to.
An agent usually charges a fee equivalent to a month's rent, which is shared equally between the landlord and the tenant.
HouseFun (好房網) is the second most popular rental website in Taiwan. It has similar features to its rival 591, and has a mobile app version. To find places listed by owners, start a search on the homepage and under contact people on the left menu that appears, select landlord (房東).
A third option is Rakuya (樂屋), which has most of the same bells and whistles as the other sites, but one unique feature is a flow chart showing fluctuations in rent prices for a given area over the past year. Other interesting features include a street view, a message board, and pictures of suggested interior decoration configurations for your crib.
Use the keyword search "for rent by owner" (屋主自租) to select for places listed directly by the landlord.
●Negotiations
First of all, be sure to bring a local who can speak fluent Mandarin and Taiwanese to assist you with the lease negotiation process. Otherwise, you're likely to get charged the foreigner tax and have a tough time understanding the terms of the contract.
If you're only around for a semester, you might be able to negotiate a 6-month lease down to 3 months if you offer to pay all the money up front.
Do a quick run-through with the landlord to catalogue and document all existing damage, to be sure there aren't any surprises when it's time to get your deposit back. A deposit can range between one to two months' rent.
Apartments are usually fully furnished, but if you really feel like something is lacking, you might be able to talk the landlord into acquiring it or splitting the cost of buying new furniture.
When it comes time to sign the contract, be sure that you get a duplicate copy, have your translator look over the terms very carefully, and make sure they are present to serve as a third party witness. Many, if not most, people nowadays use a standardized contract (定型化契約), written under the guidance of the government, making it generally fair to both the tenant and the landlord.
●Location, location, location
Invest NT$80 (US$2.50) in an old-school paper map and get to know the lay of the land. Unless you plan on tooling around on a scooter everywhere in all weather (including super typhoons), you'll want to look for places near an MRT station
Xinyi and Da'an districts have the highest rents in Taipei, Xinyi because of its proximity to Taipei 101 and all the action around it, Da'an because of its central location, good schools and safe environment.
Linsen North Road, old sections of Wanhua District including Huaxi Street are a bit on the seedy side due to their proximity to red light districts, so the rents are relatively low.
Many students live in Xindian, New Taipei City because it is less expensive and in striking range of NTU and National Taiwan Normal University, both of which are within Da'an District. NTU is located in Gongguan, thus it is ground zero for legions of foreign students, which means competition is fierce at the start of the semester.
Tianmu in northern Taipei's Shilin District is the original American expat enclave that now has a diverse international population and a wide variety of Western restaurants. Due to its dearth of MRT stops, it's no longer the most expensive area, but rents remain high.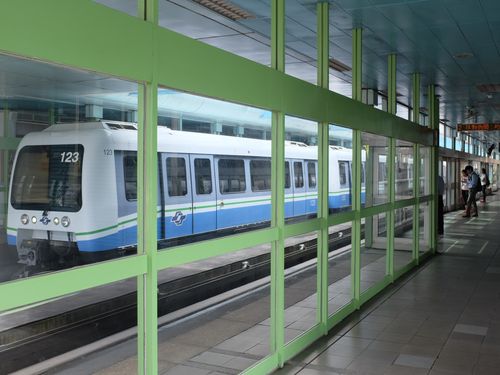 New Taipei City is going to be cheaper than Taipei City and if you're near an MRT station, you're probably about half an hour from city center. You'll need to pick your poison between convenience and cost though. For example, Xizhi District is cheap as there is no MRT. On the other hand, Banqiao District is more convenient because of the MRT, so it's getting more expensive.
Zhongshan, Songshan, Datong, and Neihu districts are arguably a comfortable median where the prices aren't so high, transportation is convenient, and the sleaze factor isn't overpowering.
●Superstitions
One thing working for you right now is that we're in the middle of Ghost Month (鬼月) in Taiwan and one of the major taboos is moving during this 7th month on the Chinese lunar calendar, which ends on Sept. 12 this year, so there's less competition from locals until then.
Unless you share Taiwanese people's superstitious beliefs, look for apartments on the 4th floor. They may rent for a lower price because locals generally don't like the number four because it sounds similar to the word for death.
Taiwanese also don't like big windows because of the constant threat of typhoons and fear of damage although that has gradually changed with the growing popularity of strong double-glazed windows.
Here are some useful vocabulary and tips that might help you in your apartment search:
>租 -- Rent. Keep an eye peeled for signs in windows of areas you're interested in with this character and a phone number.
>坪 -- This is the area unit used in Taiwan instead of square feet or square meters, with 1 坪 = 3.3 square meters (35.59 sq ft).
>押金 -- Deposit. One-year leases usually require a 2-month deposit, sometimes less than that.
>合約 -- Lease
>仲介 -- Agent
>套房 -- Studio apartment
>一房 -- One bedroom
>兩房 -- Two bedrooms
>公寓 -- Older buildings with 5 floors or less that don't have an elevator
>華夏 -- Newer buildings with a proper elevator
>頂樓加蓋 -- Is an extra structure added to the roof of the building, typically illegal, but is often placed on the market for rent. It is a cheaper option because it's the hottest floor in the building during the summer and often colder in the winter due to less insulation.
>乾濕分離 -- Memorize this phrase, tattoo it on your hand. This means that you want the shower separated from the rest of the bathroom to avoid spraying water everywhere.
>烤箱 -- Oven, a rarity in Taiwanese households
>微波爐 - Microwave oven
>房東 -- Landlord
>洗衣機 -- Washing machine
>電費、水費、網路費、瓦斯費- Electricity bill, water bill, Internet bill and gas bill, respectively
>鑰匙 -- Keys
●Tried and True Tips
>Check the lobbies of apartment complexes and community boards to see if they have postings for rooms for rent.
>Check with friends and coworkers to see if they know anyone who has a place to rent.
●Red Flags
Lastly, here are some warning signs that might indicate that the conditions in and around the apartment are less than ideal:
>Construction site nearby
>Playground or kindergarten next door
>Apartment faces a major road. It's much quieter to live in a side alley instead.
>First floor apartment -- This makes it easier for burglars to break in through windows or doors unless they are reinforced.
>5th floor without elevator
>Plumbing not functioning properly, such as toilet and shower.
>Water stains on the ceiling or in a corner, an indication of chronic leakage
>Metal bars or cages installed over windows that can't be opened in case of a fire
>Staircases and common areas cluttered with residents' stuff: a fire hazard and sign of poor management
>Dead insects in furniture drawers or kitchen cabinets: a sign of an infested apartment