Taiwan library establishes first digital resource center in Paris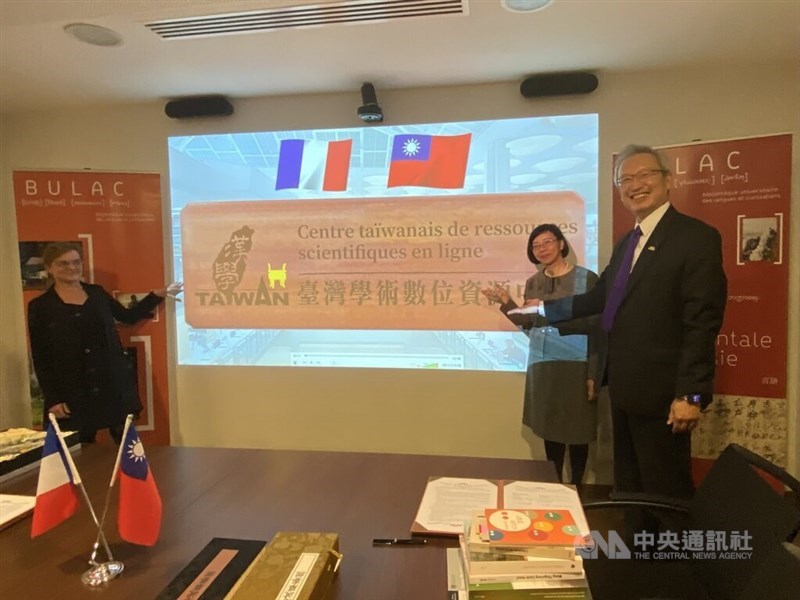 Paris, Nov. 14 (CNA) Taiwan's National Central Library (NCL) launched its first Taiwan Academic Digital Resource Center in Paris on Monday to help improve the accessibility of Taiwanese research documents to French scholars.
The center was set up in collaboration with the Paris-based University Library of Languages and Civilizations (BULAC) and inaugurated during a signing ceremony attended by NCL Director General Tseng Shu-hsien (曾淑賢) and BULAC Director Marie-Lise Tsagouria.
The new resource center is an online service that provides digital resources for research, including electronic books, compiled by the NCL and various Taiwanese academic institutions or businesses, Tseng said.
Digitization can help solve the issues of how to store materials and distance constraints, which can help readers save time, she added.
"Through digital transformation, the NCL has been able to establish the first-ever Taiwan Academic Digital Resource Center to help Taiwan research be accessible to French scholars, which is very significant," Tseng said.
The NCL is looking to further deepen its cooperation with BULAC, through, for example, organizing workshops and online lectures, she added.
At the event, Tsagouria said the digital resource center was the first platform of its kind launched in collaboration with a foreign partner, adding that it serves as a model for other institutions.
Echoing Tseng, Tsagouria added that BULAC anticipates strengthening its cooperation with the NCL, whether in the field of Chinese studies or library training.
Monday's ceremony also included the signing of an agreement between the NCL and BULAC to collaborate on a union catalog for ancient Chinese books.
According to the NCL, since 2005 it has been involved in digitization cooperation projects with university and national libraries in numerous countries that hold important ancient Chinese books.
In addition to the new digital center, the NCL has also set up the Taiwan Resource Center for Chinese Studies in 40 countries, which provides institutions with physical copies of Taiwanese research materials.