New book discusses Lee Teng-hui influence on Taiwan agriculture policy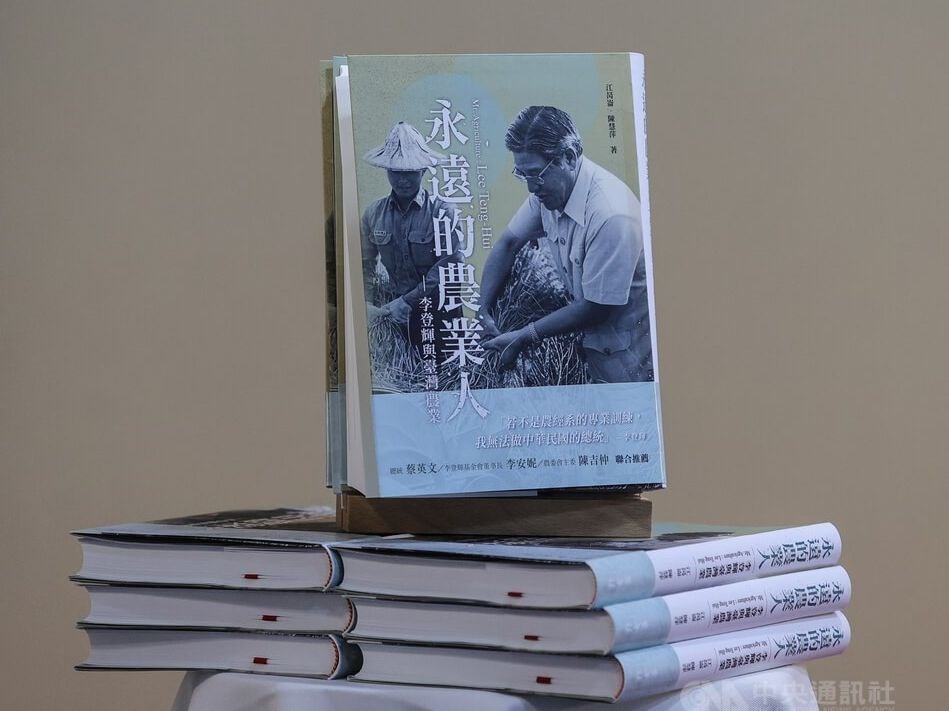 Taipei, July 29 (CNA) Two years after his passing, former Republic of China (Taiwan) President Lee Teng-hui (李登輝) was remembered with the release of a new book published by the government-funded foundation AgriHarvest Friday documenting his influence on agricultural policy in Taiwan.
The book, titled Mr. Agriculture: Lee Teng-hui, details Lee's life, as well as major events in the development of Taiwan, especially those relating to agricultural policy, which was the foundation of the nation's development after 1949, Council of Agriculture (COA) Minister Chen Chi-chung (陳吉仲) told a news conference in Taipei.
The aphorism "agriculture is the bedrock of nations," immortalized by Lee in a calligraphy work which hangs in the minister's office, has helped farmers combat the negative effects of economic development on farmland and their harvests, Chen said, citing as an example the abolition of the "rice for compost" barter system in 1973.
Under the system implemented by the-then Kuomintang (KMT) government in 1950, chemical compost was controlled by the government, and the only way farmers could obtain it was to trade rice for it at a ratio of one 1 kilogram of compost to 0.85 kg rice.
Lee, who had an academic background in agriculture, viewed this as the government exploiting farmers to sustain Taiwan's post-World War II economic growth, and therefore pushed for the system's abolition in his capacity as then-minister without portfolio, Chen said.
During his stint as Taiwan Provincial Government chairman, Lee introduced a policy to foster 80,000 agricultural specialists who were then deployed to farming communities to provide assistance.
This policy also sought to expand the size of farms and adopt cold chain refrigeration systems, which boosted the competitiveness of local agriculture and allowed it to continue improving without foreign assistance, Chen said.
Murashima Ikuyo, secretary general of the Japan-Taiwan Exchange Association's Cultural Affairs and Public Relations Department, said that many Japanese learned about Japanese hydraulic engineer Yoichi Hatta's feat of building the Chianan Irrigation Canal in Tainan when Taiwan was under Japanese rule through Lee, who paid tribute to Hatta on multiple occasions.
She praised Lee's efforts at advancing Taiwan-Japan ties and thanked the people of Taiwan for continuing to cherish and use the hydraulic facilities.
Lee's daughter, Annie Lee (李安妮), said at the press event that the book is "well-researched," and that it explores the former president's bond with Taiwan from the perspective of agriculture, which was what originally motivated him to enter public service.
She expressed hope that her father helped shape Taiwan for the better by making an important contribution to local culture, politics, economy and society, adding that it was Lee Teng-hui's hope that future generations of Taiwanese would highlight Taiwanese identity in their exchanges with the international community.