TANG PRIZE
/
Chinese characters spurred love of culture: Tang Prize Sinology winner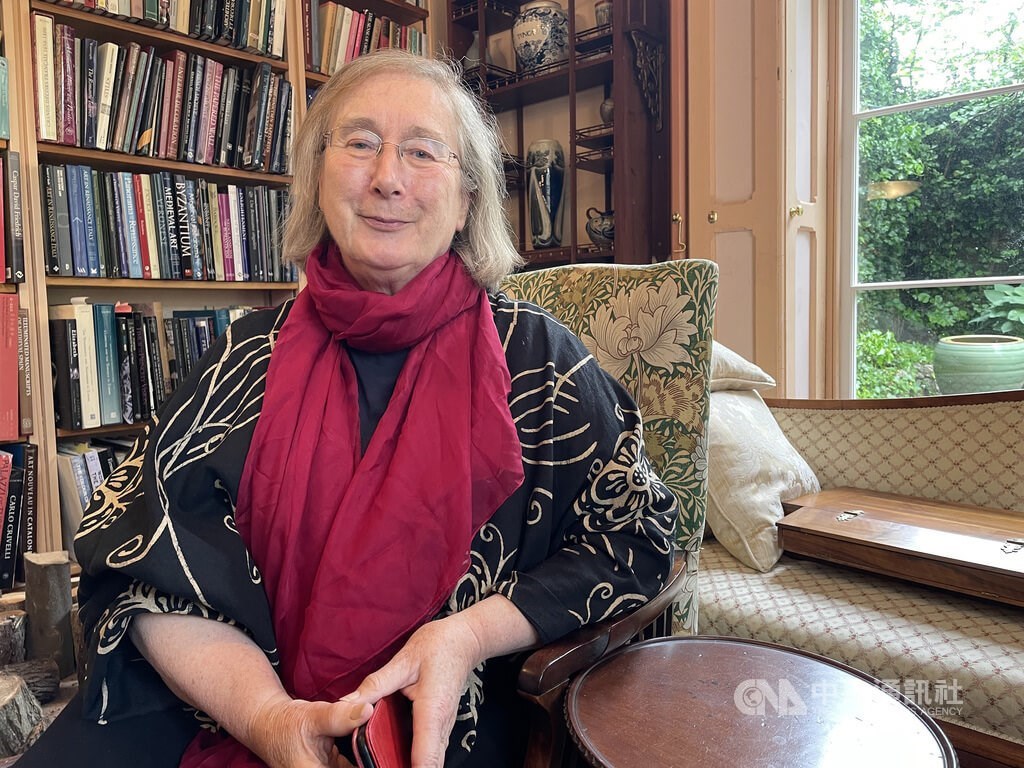 Taipei, June 20 (CNA) British art historian Jessica Rawson may have expressed surprise when informed that she won the 2022 Tang Prize in Sinology, but the honor represented a life-long passion for Chinese culture that began with an interest in Chinese characters.
Rawson, who described herself as "an archaeologist interested in material culture," said she was "astonished" to be even considered in the Sinology category.
Yet, she has published several works on aspects of China's culture and supported renovations of the China Gallery in the British Museum, achievements that grew out of her experiences as a child.
"I started to be interested in China at a very, very young age when I was in primary school," she told CNA after learning she had been awarded the prize.
She said her parents took her to an exhibition on Egyptian hieroglyphs, which gave her a glimpse of ways to write in a different language.
Later, her mother, who was interested in art and culture, introduced her to East Asian art, in particular the art of China and Japan, and that was when she fell in love with Chinese characters.
Evolving interests
That interest evolved when she was a student at Cambridge. While there, Rawson did her first major excavation in Jordan, where archaeologists unearthed Chinese ceramics that arrived there through trade with the Middle East.
"I started to see archaeology was the way to learn more about China," she said.
Now at the age of 79, Rawson is considered a leading art historian of ancient Chinese art, with a particular interest in the cosmology of the Chinese Han period (206 BC-220 AD) and its relationship to tombs and their decorations.
She has written numerous books on such topics as Chinese jade, Chinese poets from the 7th to 13th centuries, and Chinese silver of the Tang dynasty, and was the renowned keeper of Oriental Antiquities at the British Museum.
Currently, she is the honorary research associate at Oxford University's School of Archaeology.
For her decades-long contributions in the field, Rawson was awarded the 2022 Tang Prize in Sinology for her "gift and mastery of the craft of the visible that reads the art and artifacts of Chinese civilization."
"By giving voice to the ancient world of objects, Jessica Rawson has taught generations how to see when they look at things, and her acuity and vast visual learning have given new insight into the world of the lineages, transformations, and migrations of mute things," according to the Tang Prize Foundation.
Asked about her major achievements during her decades-long career, Rawson said she has tried her best to introduce China and Chinese culture to a wider population in Britain.
In particular, she has helped raise money to conduct two major overhauls and renovations of the China Gallery in the British Museum, in 1992 and in 2017, respectively.
"So this renovation of this gallery, this huge gallery, I think, makes China much more apparent within the context of the British Museum," she said.
As a long-term professor at Oxford, Rawson said she has encouraged the development of China studies and has helped raise funds to support positions in early and ancient China studies at the university.
That has led to more experts in the field teaching about China or Chinese culture in general at the world renowned university.
Challenges of promoting Chinese culture
Rawson's ability to bring Chinese culture to a wider audience has not been without its challenges because of the difficulties the Western world has in understanding it, which she attributed in part to the language barrier.
To have some basic understanding of China, Rawson said one needs to have some understanding of the Chinese language, which is difficult to translate; its food system, which differs based on the geography of different regions; and its complex family structure, which is very different from the West.
Most Westerners, however, only have a "superficial" understanding of China, she said, leading to some misunderstanding of it.
"I think people need to learn about the long history and not just look at China today, which looks very modern, with skyscrapers and fast trains and aeroplanes," she said.
Due to the COVID-19 pandemic, Rawson said she has not visited China and Taiwan for several years but she is now looking forward to visiting Taiwan in September after being awarded the Taipei-based biennial award.
One place she will definitely visit while in Taiwan is the National Palace Museum that houses the world's largest collection of priceless Chinese art treasures spanning nearly 5,000 years of Chinese history.
She has visited the museum several times already but is looking forward for another visit, in particularly to see those jade objects collected by the Qing Dynasty emperors, dated back to 3,000 or 4,000 BC, according to Rawson.
The Tang Prize is a biennial award established in 2012 by Taiwanese entrepreneur Samuel Yin (尹衍樑), chairman of the Ruentex Group, to honor people who have made prominent contributions in four categories -- sustainable development, biopharmaceutical science, Sinology and rule of law.
Winners of the prize receive a cash award of NT$40 million (US$1.34 million) and NT$10 million in research funding, along with a gold medal and a certificate.
The inaugural Sinology laureate was Yu Ying-shih (余英時) in 2014. William Theodore de Bary won the 2016 Sinology prize, followed by Stephen Owen and Yoshinobu Shiba in 2018 and Wang Gungwu (王賡武) in 2020.
View All