Japanese artist Yoshitomo Nara's exhibition to open in Kaohsiung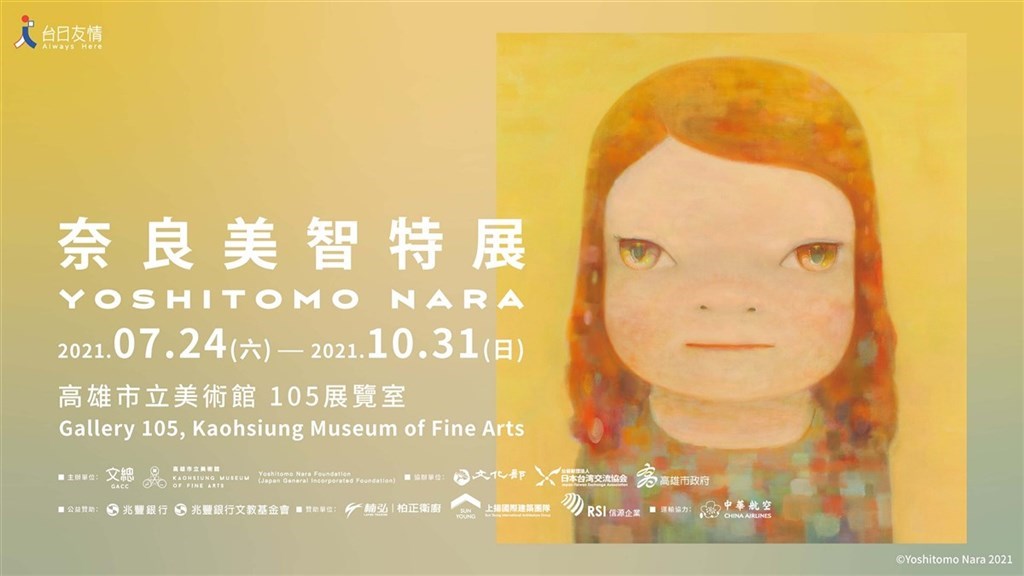 Taipei, July 14 (CNA) A solo exhibition by Japanese artist Yoshitomo Nara will open at the Kaohsiung Museum of Fine Arts in southern Taiwan on July 24, the museum said on Wednesday.
The free exhibition will run until Oct. 31, and those who wish to see it can make a reservation on the museum's website from Friday, the museum said.
Each time slot will have a limit of 100 people, and the museum will also record the names and phone numbers of each visitor for disease prevention purposes, it said.
Nara's exhibition in Taiwan originally opened in Taipei on March 12 and attracted over 2,000 visitors in its first three days. Before its scheduled run was cut short on May 14 due to a surge in domestic COVID-19 cases, over 40,000 people had seen the exhibition.
The exhibition's stop in Kaohsiung City will feature the paintings "Miss Moonlight" and "Hazy Humid Day," the latter of which the artist created specifically for Taiwan.
It also has works that were not included in the run in Taipei, such as a photography series titled "Traveling Yamako," two pieces on cardboard titled "Yamako Sister/older" and "Yamako Sister/younger", eight sketches that Nara drew while in quarantine in Taiwan in February, and a painting that the artist completed earlier this year and is showing for the first time outside of Japan.
Nara has previously said that the exhibition is a form of gratitude for Taiwan's generosity and huge aid donation to Japan after the devastating 2011 earthquake and ensuing tsunami.
After its stop in Kaohsiung, the exhibition will move to the Tainan Art Museum in southern Taiwan's Tainan City in November.