Start of Dajia Mazu Pilgrimage to be live streamed in 11 languages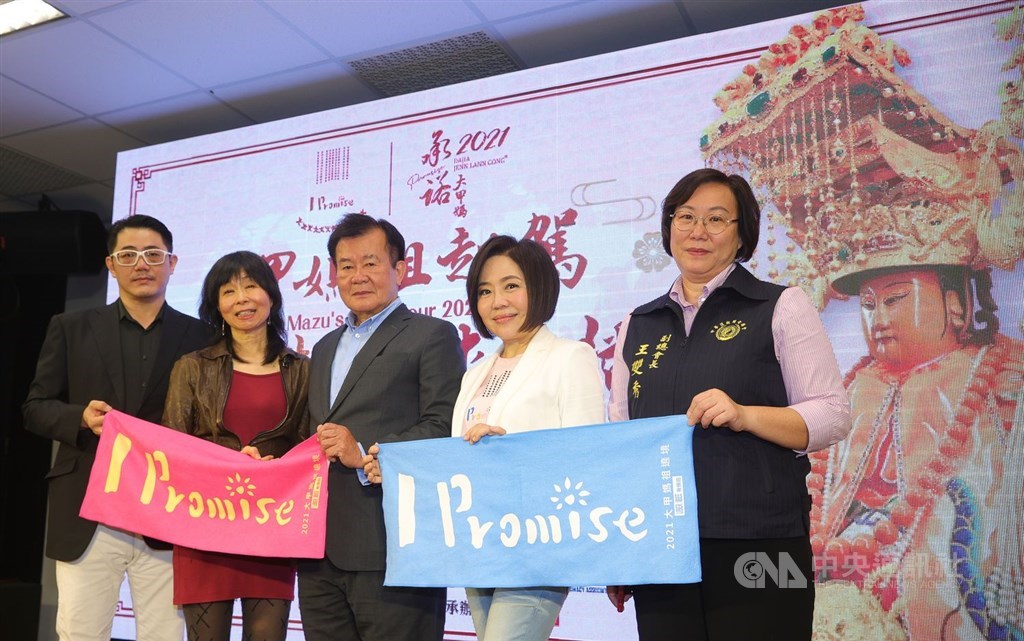 Taipei, April 7 (CNA) The annual Dajia Mazu Pilgrimage will set out from Jenn Lann Temple in Taichung City on Friday, and for the first time the start of the procession will be live streamed in 11 languages by Radio Taiwan International (RTI).
The nine-day pilgrimage -- the largest religious event in Taiwan -- involves a procession that travels from Taichung to Changhua, Yunlin, and Chiayi counties, before returning to the temple.
The procession has attracted hundreds of thousands of participants in recent years with the exception of 2020, when the event was scaled down due to concerns over COVID-19.
According to the temple, after preliminary activities are completed, temple personnel carrying three effigies of the sea goddess Mazu in a sedan chair will embark on the journey at 11:05 p.m. Friday.
RTI, in collaboration with Jenn Lann Temple and the General Association of Chinese Taoism, will live stream Friday's activities on the 17LIVE Inc. platform beginning at 8 p.m.
A group of hosts will discuss the procession and the history of the pilgrimage as it takes place, in different languages on a rotating basis.
The languages provided are Mandarin Chinese (including Cantonese), English, Russian, French, Spanish, German, Japanese, Korean, Thai, Indonesian, and Vietnamese.
The radio station added that the show will be available in Taiwan, Singapore, Japan, the United States, Indonesia, Russia, Vietnam, Australia, Thailand, Canada, the United Kingdom, South Korea, and Saudi Arabia.
Speaking about the decision to broadcast the event internationally, RTI Chairperson Lu Ping (路平) said on Wednesday that in traditional Taiwanese society, Mazu has the power to calm, comfort, and heal and that she hopes to connect Taiwan with the world through this unique religious event.
The live streaming will last through midnight until Matsu's sedan chair crosses Dajia River Bridge, where firecrackers and fireworks will be set off around midnight, said RTI.
This year, worshipers will be forbidden from kneeling on the ground to wait for Mazu's sedan chair to pass overhead, according to the temple, which cited disease prevention measures. The traditional practice is believed to bring good luck.
Social distancing will be maintained during the procession, and participants will be required to wear face masks and prepare disinfectant, the temple said.
In addition, participants wishing to enter the temples visited by Mazu on the journey will be asked to register their personal information, the temple said.