Ang Lee conferred 'Knight of Legion of Honor' by French government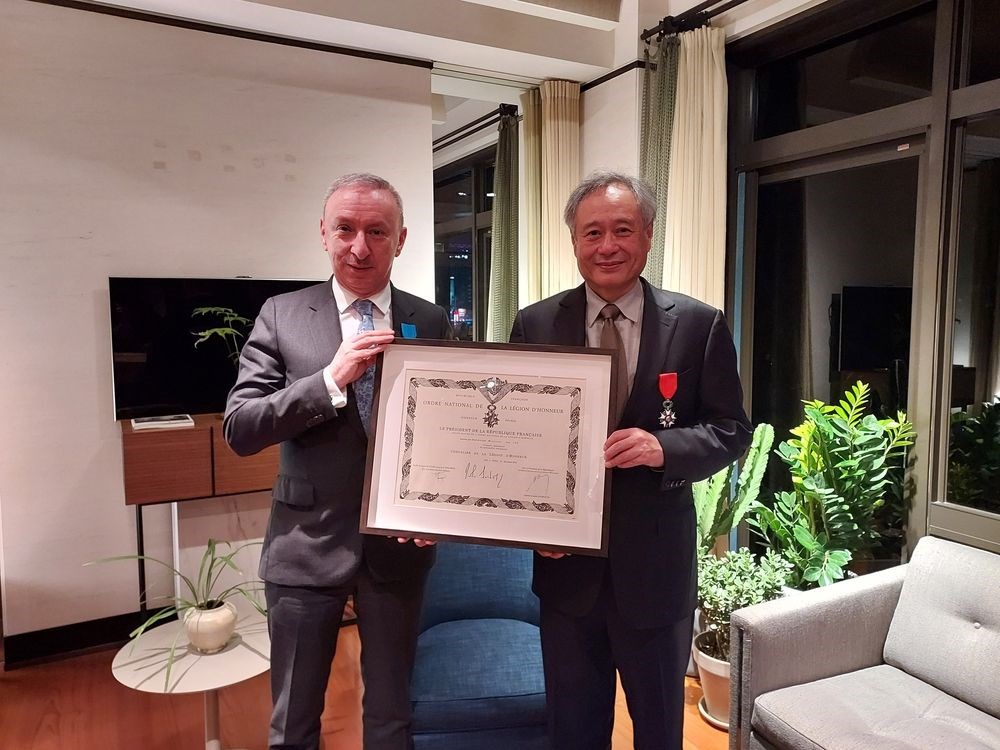 Taipei, Feb. 4 (CNA) Renowned Taiwanese-American director Ang Lee (李安) on Wednesday was honored by the French government, which conferred on him the Knight of the Legion of Honor, the highest French order of merit, in recognition of his outstanding achievements and contributions to cinema and culture.
The honor was bestowed upon Lee by Jean-Francois Casabonne-Masonnave, who is director of the French Office in Taipei, which is the de facto embassy of France in Taiwan in the absence of formal diplomatic relations between the two countries.
In a news release, the office praised the filmmaker for having the ability to take on various film genres while always being able to evoke "humanism and elegance" in all of his works.
Born in Taiwan's Pingtung County, Lee's early successes included "Pushing Hands" (推手), which earned him the Best Film award at the Asia-Pacific Film Festival in 1992, the French Office said in its statement.
It noted that Lee's next movie, "The Wedding Banquet," was one of the first Chinese-language films on homosexuality.
Lee is also known by the French audience for his other notable films -- "Crouching Tiger, Hidden Dragon" (臥虎藏龍), "Brokeback Mountain" (斷背山) and "Life of Pi" (少年Pi的奇幻漂流), the statement said.
According to the Office's statement, other past recipients of the Legion of Honor include Clint Eastwood, Francis Ford Coppola and Emir Kusturica.
The Legion of Honor was established in 1802 by Napoleon Bonaparte, and for over two centuries French presidents have bestowed the award to individuals who have made outstanding accomplishments in a wide array of fields.
The order is divided into five degrees of increasing distinction: Chevalier (Knight), Officier (Officer), Commandeur (Commander), Grand officier (Grand Officer), and Grand-croix (Grand Cross).