Thousands go to southern Taiwan coast to see off 'King Boat'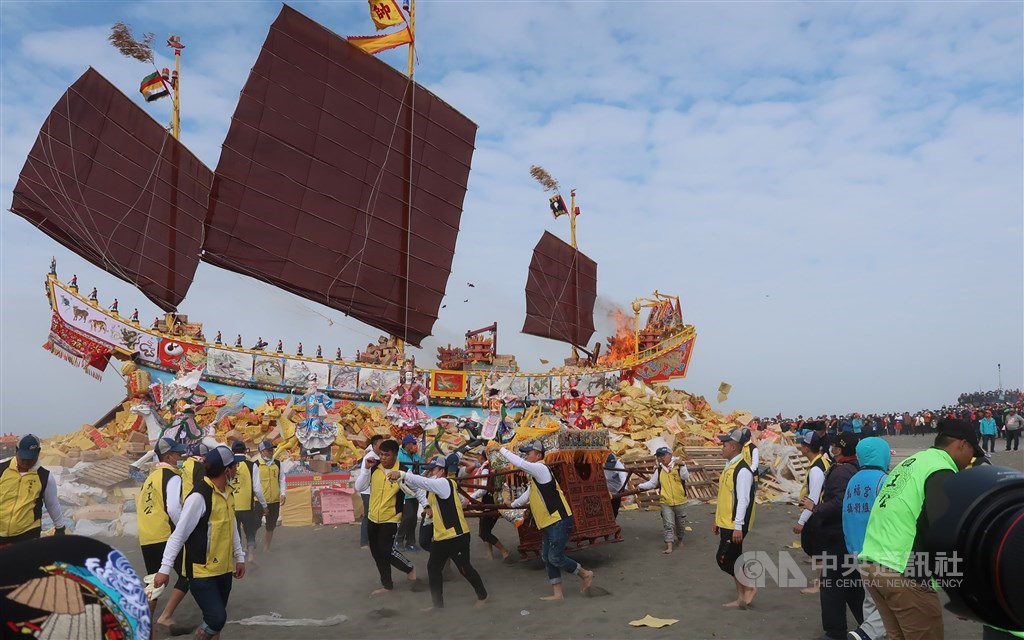 Kaohsiung, Jan. 17 (CNA) Nearly 10,000 people gathered at a beach on Jiading District in Kaohsiung early Sunday morning to watch the burning of a "King Boat" in a local religious ritual held to protect the community and its fishermen.
The ritual is a tradition adopted by the local Baishalun Wanfu Temple to pray for peace and prosperity and prevent a plague or other catastrophes.
It had been 18 years since the temple, where five "Wanye (deities)" are worshiped, built a King Boat, and on Sunday it was set afire with the "god of plague" on board on a bed of "ghost money."
According to Wanfu Temple, it held its first King Boat burning ritual in 1960, and eight others have been organized by the temple, each time with the approval of the "Wanyes" obtained by tossing divination blocks.
The local folk ritual is popular along Taiwan's southwestern coast, and an important event for Jiading residents and local fishermen.
On Sunday, worshipers began gathering at Wanfu Temple before dawn to prepare for the departure of the King Boat with colorful paintings surrounding the exterior of the vessel.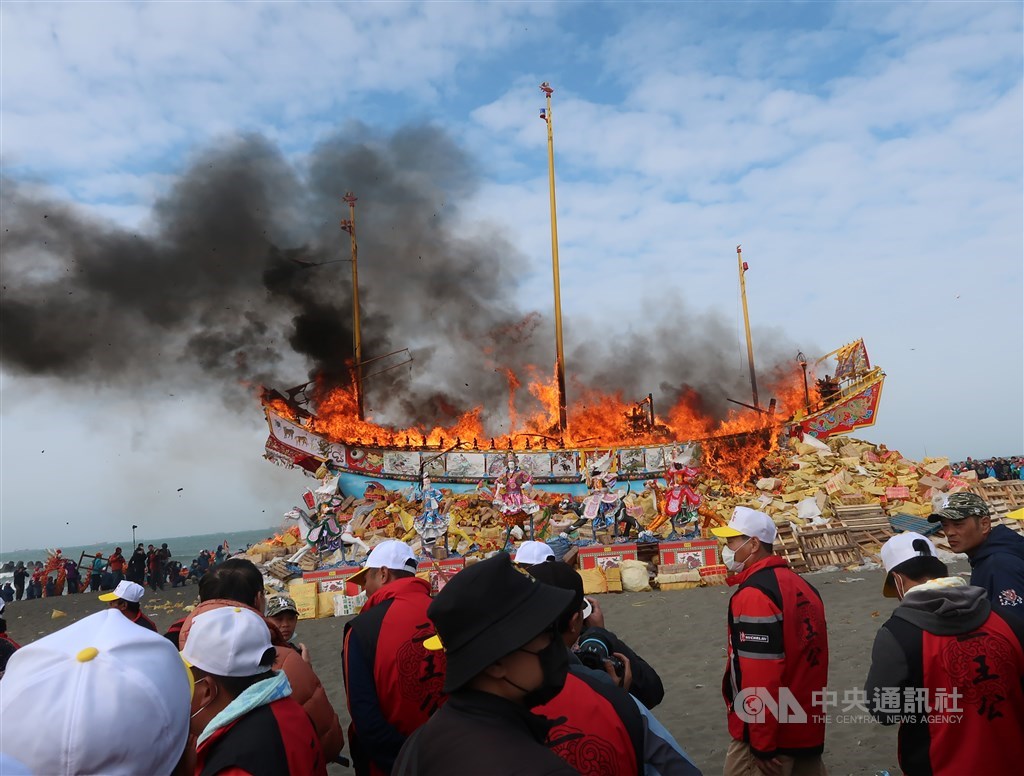 The god's ship, which measures 61.3 feet long and 14.8 feet wide, cost NT$5 million (US$178,000) to build, according to the temple.
At around 7 a.m. the boat was moved to the Jiading seashore, about a kilometer away from the temple, and placed on top of a huge pile of ghost money and traditional offerings from worshipers.
An elderly fisherman surnamed Huang (黃) recalled participating in the previous Burning King Boat ritual in Jiading 18 years ago, and it turned out to be one of the best of his life as a fisherman.
He was a member of the crew on one of two mullet fishing boats that teamed up to catch over 90,000 mullet during a single outing that year, he said.
Peace and catches that fill boats are the lifelong wishes of fishermen, Huang said, so it is important to pray to Wanye for safe outings.
"That's why we take these religious beliefs and ceremonies asking for the gods' blessings seriously," he said.
Despite having retired from the fishing business, Huang joined the sending-off ceremony at the beach along with thousands of other worshipers on Sunday. The King Boat was set ablaze at 10:20 a.m.