Russian leopard cat designer arrives in Taiwan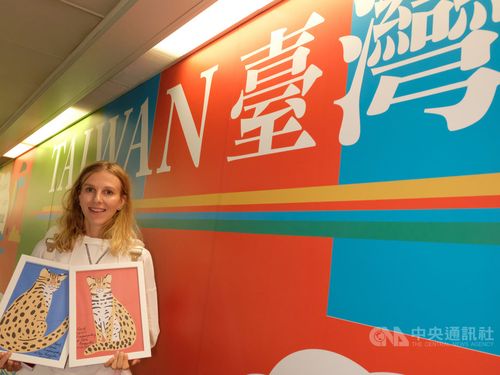 Taipei, Sept. 17 (CNA) Russian illustrator Katya Molodtsova, whose artworks are being used to decorate a train that runs between two counties in central Taiwan, arrived in Taiwan Tuesday.
Molodtsova, whose leopard cat designs are being used in trains running on the Jiji Line between Changhua and Nantou counties, arrived at the Taiwan Taoyuan International Airport, where she was greeted by staff from Taiwan's Tourism Bureau.
Invited by Minister of Transportation and Communications Lin Chia-lung (林佳龍), Molodtsova will attend the opening ceremony for the leopard cat-themed train Wednesday and visit various attractions in Taiwan, including Sun Moon Lake, Rainbow Village in Taichung, and Astoria Café in Taipei, the first Russian bakery-eatery in Taiwan, during her five-day visit, according to The Tourism Bureau.
Molodtsova at Taiwan Taoyuan International Airport Sept. 17
The Russian designer found herself under the Taiwan media spotlight when Taiwanese designer Chiang Meng-chih (江孟芝) initially claimed illustrations by the Russian as her own and used them to decorate the themed train that debuted Aug. 20.
Chiang's initial design, originally approved by the Tourism Bureau and the Taiwan Railways Administration, has since been ordered removed.
After the news broke, Molodtsova produced three new leopard cat illustrations which she said Taiwan could use free of charge.
Lin then left a message on Molodtsova's social media account thanking her for the new designs and inviting her to visit Taiwan.
According to Tourism Bureau Director-General Chou Yung-hui (周永暉), the Russian's illustrations are being used in conjunction with a new leopard cat design produced by Chiang.