Restoration work starts on heritage railway workshop bathhouse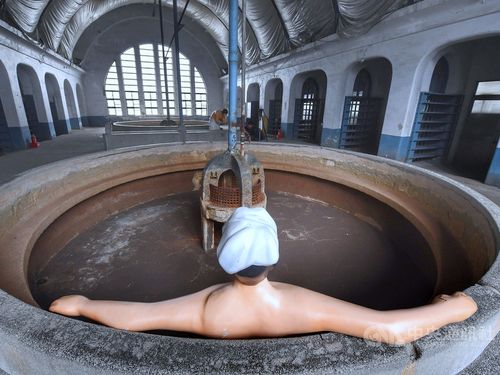 Taipei, June 10 (CNA) A project to restore an 84-year-old bathhouse and main office areas at the former Taipei Railway Workshop complex kicked off Monday, according to the Ministry of Culture.
Formerly known as the Train Hospital, Taipei Railway Workshop occupies a 16.82 hectare site on Civic Boulevard in Xinyi District and was completed on Oct. 30, 1935, when Taiwan was still under Japanese colonial rule.
It is the oldest railway car repair factory in the nation.
The former site for train maintenance and assembly, includes an assembly factory, engine room and a Japanese style bathhouse, was closed down in 2012. It was designated a national cultural heritage site by the ministry in 2015.
To transform the workshop into a permanent public exhibition, the ministry divided the site into different sections in 2017, with plans to restore one at a time since. The project is expected to be completed in 2026.
While attending the opening ceremony for the restoration project for the bathhouse and the main office of the complex, Minister of Culture Cheng Li-chiun (鄭麗君) said the main office will serve as an administrative center of the workshop.
It will also include a research room, where exhibitions will be held, she added.
At the ceremony, architect in charge of the project Hsu Yu-chien (徐裕健) said the employee bathhouse, which was designated a historical site in 2000, has two round-shaped pools.
The hot air from the engine room was used to heat the bathhouse, Hsu added.
The site has appeared in films such as French director Luc Besson's action thriller "Lucy" and "The Rooftop" by Taiwanese singer-turned-director Jay Chou.