Filipino rap sensation arrives in Taiwan, encourages migrant workers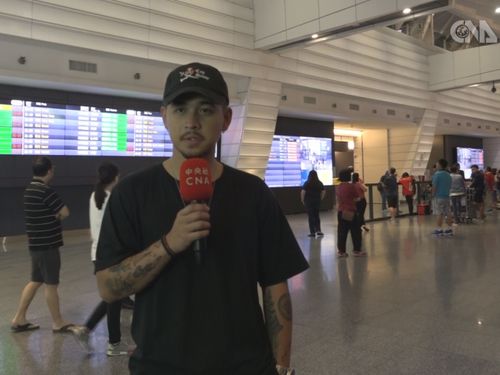 Taipei, June 8 (CNA) Geo Ong, a rap sensation from the Philippines, said Friday that Filipino migrant workers in Taiwan who are pursing a music career should not give up no matter how hard their situation is, because success will eventually come.
Ong, known for his no-holds-barred rhythmic delivery in his music video "Parokyana," which has generated over 12.3 million views on YouTube, said upon his arrival at Taiwan Taoyuan International Airport that he knows how hard it is to be working so far away from family.
"Continue pursuing your music career (and don't give up), maybe someday you can stop what job you are in right now and you can work with music and make money from it," Ong said.
Geo Ong at Taiwan Taoyuan International Airport
Citing lyrics as an important aspect of making it in the music industry, Ong also encouraged migrant workers hoping to record their music and find an opportunity to perform.
"Write a great song, great lyrics, put it in a record, sell the album, go for the shows. You can do it, I know you can do it if you work hard for that," Ong noted.
Speaking with CNA, Ong said he knows that is hard for migrant workers in Taiwan, because they are so far away from their family, but he asked them to keep up their spirits because they are doing it for their loved-ones and themselves. He also advised them to save their money to invest back in the Philippines.
"Someday I know that you can go back to the Philippines and if you have enough money you can put up a business there and you don't need to work here (Taiwan) anymore and don't need to go far away from your family," Ong said.
Geo Ong at Taiwan Taoyuan International Airport
Speaking on his impressions of Taiwan, Ong said it feels like home here because Taiwanese people give him a positive feeling by coming to talk to him and being hospitable.
"The people are so hospitable, and I think Taiwan is a great country too, like the Philippines. The vibe when I get down from the plane, I feel like I am in the Philippines also, because the people here are so talkative; when they see you they are going to greet you," Ong said.
The 22-year-old mixed race Chinese-Filipino rapper who hails from Puerto Princesa, Palawan in western Philippines traveled to Taiwan for the first time to headline at Laklakan 4, the upcoming latest edition of a Filipino series of hip hop events, which will be held in Taoyuan's Zhongli District on Sunday.
Allan Viray, founder of the event's organizer, Alpha Martial Eagles Production, said Ong's visit will be an inspiration to migrant workers in Taiwan who love hip hop music, especially those who spend their holidays and days off writing their own songs and making their own beats, hoping that they too will find their big break one day.