Last snake eatery in Huaxi night market takes its final bow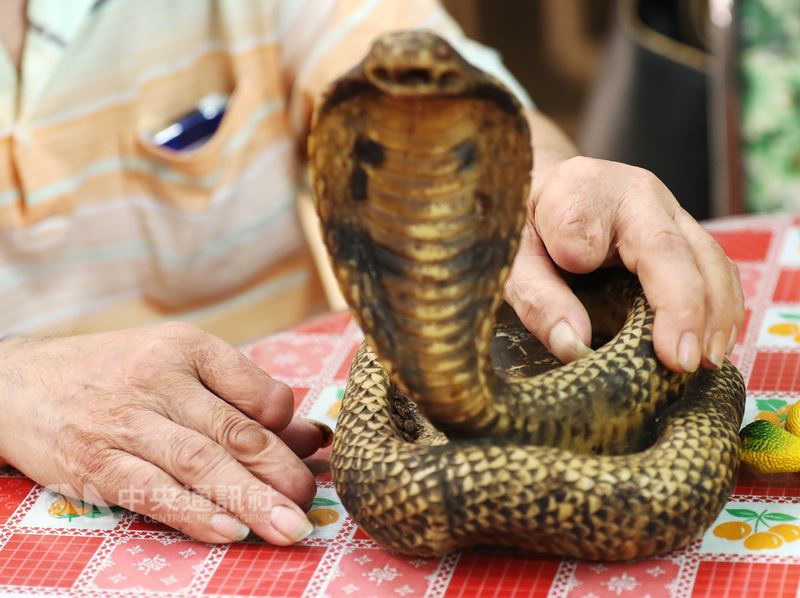 Taipei, May 21 (CNA) When a pair of scissors used to kill snakes were covered gently in red cloth Monday, it symbolized not only the closure of the last shop in the Huaxi Street Night Market that served only snake dishes but also the end of one of Taiwan's iconic night market scenes.
"We want to take a bow proudly and beautifully, and thank everyone who has ever visited us for a bowl of snake soup, which might have cured your scalp ringworm," said Kuo Yi-chien (郭懿堅), owner of the Asian Snake Eatery.
His remarks drew rounds of applauses from hundreds of local residents and visitors on hand to witness the closure of the diner.
Kuo's shop was known as the last snake "specialty store" in the market in Wanhua District.
Long gone were the live snake-killing shows that captivated visitors after being banned by the government about a decade ago, but unlike other outlets that diversified to crocodile and turtle dishes, Kuo continued to focus exclusively on snake cuisine and culture that was synonymous with the market and part of the area's nostalgia.
But due to the rising awareness of animal protection and food safety, both the supply of and demand for snake meat has been on the decline, he said.
That, along with the fading tradition in modern night markets of hawkers who embrace theatrics and the decreasing number of visitors, led to Kuo's decision to close the 60-year-old shop established by his father and convert it to a hot pot store.
Though the days of an all-snake diner will come to an end, the new restaurant will pay homage to the past by including snake broth on the menu.
Kuo said he made up his mind to leave the snake business during the Lunar New Year holiday, when his shop was unable to sell even a single snake dish between the first and the 15th day of the lunar calendar due to the shortage of snakes.
Kuo's father, Kuo Lai-kong (郭來貢), opened what was then called the Asian Poisonous Snake Academy diner in 1967, boasting that he was the top snake expert in the district.
The Huaxi Street Night Market was a red-light zone with lots of crime at the time, Kuo Yi-chien said, remembering growing up on the street and watching his father slaughter snakes.
"I remembered seeing him kill 6,000 snakes in a day, most of which were for export to Japan," Kuo recalled, though the typical daily haul for the restaurant's needs was about 150 of the reptiles.
There were as many as eight snake diners in the market's heyday between the 1970s and 1990s, and Kuo Yi-chien said his shop averaged about NT$300,000 (US$10,000) in sales a day back then.
There were so many tourists, many from Japan, visiting the diner by the busload that the Kuo family had to reserve space by keeping other customers from coming in, he recalled.
Snake meals were very popular because different parts of snakes were highly valued for their supposed health benefits, prized especially for their ability to treat skin ringworm and arthritis and serve as a sex tonic for men.
The shop had an added attraction, an orangutan named A-bao that was trained to catch snakes to entertain the guests and had the enviable record of never being bitten.
Snake handler Hung Ting-fu (洪丁福) was not as lucky as A-bao, however, as three of his fingers were partly amputated due to snake bites.
"It was nothing. I was just being careless," he said Monday without showing any regret.
Hung, who is now almost 70 years old, said he has been working for the family since he was discharged from the army at the age of 20 and learned the tricks of the trade from scratch.
Every snake has a different personality, he explained, and the trick when running into snakes with bad tempers was to calm them down before trying to catch them.
The key, Hung said, is to never force your hand with a snake or otherwise it will fight back.
(Hung Ting-fu, left, with Kuo Lai-kong, center)
But even for a man who has had to coldly battle often ill-tempered reptiles for 50 years, Hung could not help but get emotional when he and Lai-kong covered the scissors together in red cloth.
"I am a soft-hearted person, I can't say much, otherwise I'd cry," he said, with tears in his eyes.
"The boss and the boss's wife cherished me dearly, and my heart has since rested with them and never left this place," Hung said, adding that he will retire after the diner is converted into a new restaurant.