News service to be offered in Vietnamese, Indonesian and Thai: PTS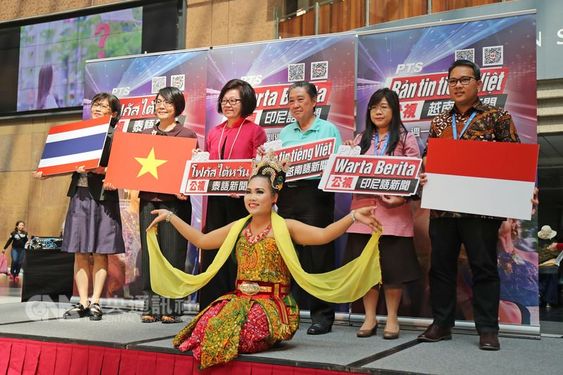 Taipei, April 1 (CNA) Starting Monday, news programs will be broadcast every weekday in Vietnamese, Indonesian and Thai, according to Public Television Service (PTS) Sunday, the first television station to provide news services in these three Southeast Asian languages in Taiwan.
PTS made the announcement at a press conference held at Taipei Main Station, which was attended by PTS Chairperson Tchen Yu-chiou (陳郁秀), PTS President Tsao Wen-chieh (曹文傑) and PTS Board Directors Eve Chiu (邱家宜) and Karen Jui-hsi Hsu (徐瑞希).
Also in attendance at the event were labor affairs officials of the Indonesian Economic and Trade Office (IETO) to Taipei.
In order to provide public services to nearly 1.1 million Southeast Asian immigrants and migrant workers in Taiwan and to promote mutual understanding between ethnic groups, PTS will broadcast news programs from Monday onwards in Vietnamese, Indonesian, and Thai, Tchen said.
In the future, there will be Taiwanese news covered in the Indonesian language which is expected to help Indonesian people to understand more about Taiwan, said IETO officials.
"To improve and promote mutual understanding and communication between Taiwanese and foreign new residents here has always been the spirit of Taiwan Broadcasting System (TBS), which hopes to allow people to see the value of Taiwan," Chiu said.
Next year, voting stations will be set up in Taiwan during Indonesia's presidential election, an indication of the close ties between the two countries, Hsu said, adding that the latest news that will be delivered to immigrants will help them settle in properly.
News broadcast in Vietnamese will start at 6:55 a.m., Indonesian at 7:55 a.m. and Thai at 8:55 a.m. each for five minutes Monday through Friday, PTS noted.
As an independent public broadcaster, PTS strives to provide services that present diversity and creativity, according to its website.